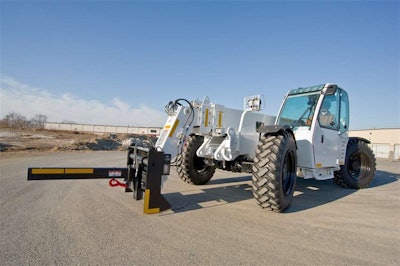 JLG has received an order to build 38 Engine Installation and Removal Vehicles (EIRV) for the U.S. Navy.
"Developing solutions, specific to the needs of the U.S. military, has become a core competency here at JLG," says Denny Buterbaugh, JLG Industries vice president – government products and programs.
The EIRV is based on the design of the MMV, a telescopic material handler developed specifically for the material handling needs of the U.S. Marine Corps, including a modified boom used for placing or removing engines on cargo aircraft like the P-3, C-2, E-2 and C-130. The EIRV has a load capacity of 6,000 pounds (2,721 kg) and can maneuver in the most challenging terrains.
Valued at approximately $6 million, this contract brings the total EIRV vehicles on order to 64 units, with a value totaling over $10 million dollars. The EIRV is built in McConnellsburg, Pennsylvania, and will be in use at naval facilities around the globe.