The storefronts at agricultural dealerships can be quite impressive. Massive horsepower tractors and equipment are often parked out front and captures the eye of everyone driving past. Yet these same displays can also be quite intimidating. Imagine being in the market for a compact utility tractor and the first thing you see is a 500 hp cotton picker.
Richard Miller understands that challenge. As corporate sales manager-turf and utility for TriGreen Equipment, a dealership network with 20 locations in Alabama and Tennessee, he sees locations that sell everything from massive 4WD tractors to string trimmers.
"Our challenge has been to keep the compact utility tractors and zero-turn mowers out front so there is no intimidation for our customers walking in," Miller says. "The good thing is our customers who are in the market for big equipment usually make our dealership a destination, so they know we sell that equipment."
Miller says dealerships have evolved to have more of a retail feel, offering customers a more relaxed atmosphere. "We found out the hard way that parking the big stuff up front meant customers would not stop because they didn't think we sold compact utility tractors," Miller says. "So, we decided to change that."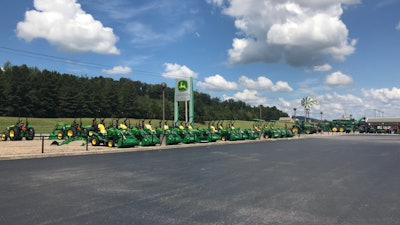 In addition to change in the appearance of the storefront, Miller says the sales staff pays particular attention to newer customers who may be buying their first piece of equipment, no matter the size. That's especially true for compact utility tractor buyers, who may be purchasing their first tractor and may need additional assistance.
While all sales staff are well-versed on all equipment at the dealership, Miller says there is often a point-person who can provide additional assistance.
[RELATED: Implements: What do you need?]
"We ask a lot of questions, especially how the tractor will be used, who will be using it, what jobs they want to have done," Miller says. "The internet allows for a lot of research before walking in the door. We simply work with customers to validate their decisions. And then we can offer suggestions, from the amount of horsepower they may need to the implements that will help them get the most out of their equipment."
Service after the sale
Miller says education about the equipment TriGreen sells extends well beyond the iron. While they may be small, compact utility tractors are incredibly durable and built to work a lot of hours in a variety of conditions. "We have to make sure that these customers understand that they are buying equipment that will need routine maintenance," he says. "We help them with routine maintenance plans that help them protect their investment."
Miller sees a lot of compact utility tractors in his dealerships with very low hours. "But they still need regular maintenance, so we offer programs to encourage service at least once a year," he says. "It can be a challenge because many of these users simply don't use the tractors enough to wear them out."