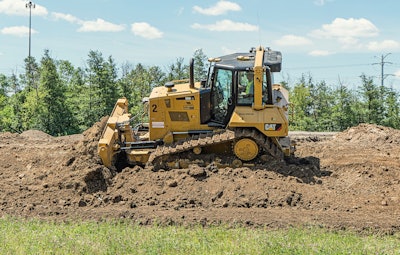 Mast-free GPS machines are taking over the machine control world and Topcon has been at the forefront of this design revolution. Now the company has announced an upgrade to its flagship 3D dozer machine control system, the 3D MC Max.
Mast-free systems eliminate the tall, blade mounted poles on which the receivers for the first generation of 3D machine control systems were mounted. While these systems got the job done, the poles (or masts as they are referred to) were vulnerable to damage from earthmoving debris, overhanging branches and the like. Plus the receivers had to be dismounted and secured against theft at the end of the day. Mast-free systems use receivers on the top of the cab, sensors and inertial measurement units (IMUs) built into the machine to achieve the same results.
Topcon's original 3D MC Max system was introduced in 2016 with support for six-way dozer blades. The upgraded Topcon 3D MC Max system has been designed to support the four-way pusher class of dozers from multiple manufacturers. The update also includes an optional third IMU that enables pitch controlled blade systems support.
The optional third IMU improves performance when moving material in environments where large inclines add challenges to the job site, says Murray Lodge, senior VP construction.
In previous GPS technology, a system had to be recalibrated as the blade on the dozer wore down—an inch less steel on the cutting edge of the blade would result in your built surfaces being an inch off unless you recalibrated. With the new 3D MC Max system, "A calibrated machine can better hold its accuracy with incremental field adjustments by accounting for blade wear," says Lodge.
And, if you already have the older version of Topcon's 3D MC Max installed, you can upgrade it with the third IMU option configured.