In the early days of machine control the customer had two options: take it or leave it. When manufacturers started bundling basic packages as standard equipment, the "leave it" option started to fade away.
The early-adopter contractors heralded the arrival of machine control as the best thing since hydraulics, but many felt it was costly and unnecessary. Some operators resented the suggestion that they needed software to be proficient.
The market has matured. OEMs offer a menu of packages from simple indicate systems to those nearing autonomous machine operation. Now customers are interested in getting the right package for their specific needs. Even seasoned operators appreciate the ease and convenience of machine control.
1D, 2D, 3D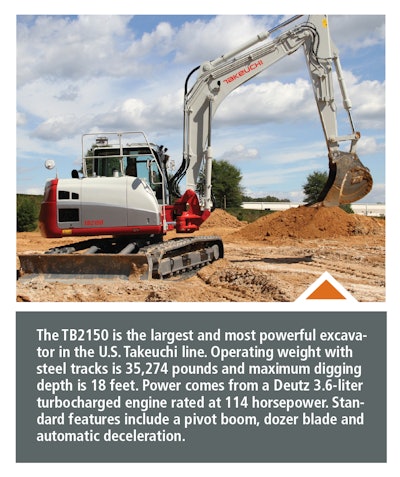 Contractors can now choose the level of machine control and whether to opt for technology that's scalable and upgradeable. They aren't stuck forever with the package they initially purchased nor do they have to buy a new machine to get a higher level of control technology when their needs change. Upgradeability gives customers the confidence to start with the lowest-featured offering that meets their immediate needs while knowing they can upgrade later with minimal hassle.
The flagship model of Cat's new next-gen excavators, the 330, comes with 2D Grade as standard. Through a touchscreen monitor, the system provides guidance for depth, slope and horizontal distance to grade. Grade Assist, also standard, automates boom, stick and bucket movements for single-lever, on-grade digging. Upgrades to Advanced 2D and 3D grading are available.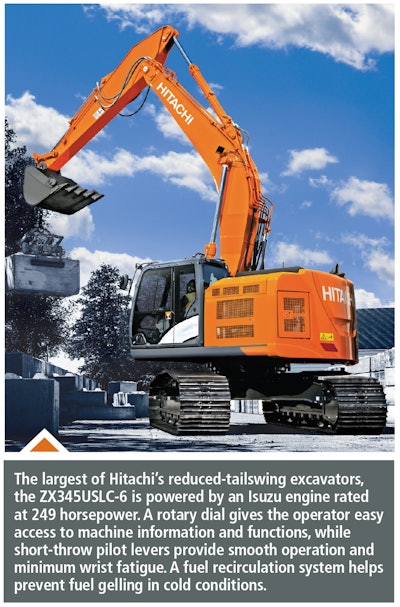 Max Winemiller of Case Construction Equipment gives an overview of one-dimensional (1D), two-dimensional (2D) and three-dimensional (3D) systems.
"In the simplest terms, 1D systems are designed to regulate single plane grade and slope," Winemiller says. "2D systems regulate grade and slope with many variations needed on the work site. 3D systems regulate grade and slope dependent on the positioning of the machine across the entire work site, based on GNSS machine position, laser-guided sensors or total stations, and changing map and worksite topography." Each level provides significantly more information, precision and functionality.
Aaron Kleingartner, marketing manager, Doosan Infracore North America, says a 2D system can maintain grade during backfill. "If the operator wants to add 8 inches of Class 5 gravel in a trench, the system can be used to do that and stay at grade." With a 3D system, the operator can move and feed material anywhere on a jobsite. "3D helps sculpt and mold the site to plan. In a drainage system, for example, you can add and remove material to control where water comes from and where it goes."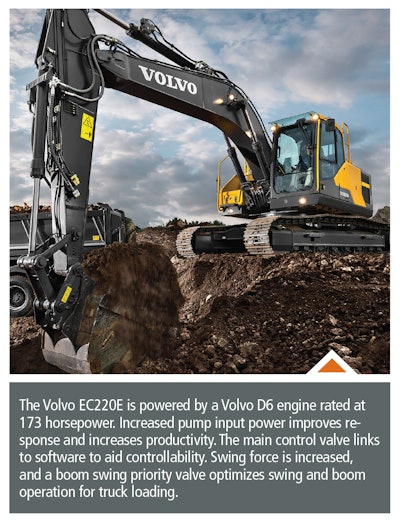 Regardless of the system, it's important to note that none compensates for tooth and cutting-edge wear, says Matt McLean, excavator product manager, Volvo. In systems with centimeter accuracy, wear can significantly affect accuracy so recalibrating occasionally is an important step. "It only takes three to five minutes," says McLean.
Now or later?
"The building blocks that allow a contractor to use a 2D system are the same as what is needed for a 3D system," says Andrew Dargatz, Case brand marketing manager. This allows the customer to be conservative on the initial investment and upgrade later if conditions warrant. "A contractor should not fear investing in one system and then having it become obsolete when they're ready to graduate to 3D." That said, there are benefits to having the right technology in place at the time of purchase. "Taking delivery of the machine ready to go will get you up to speed faster, and you won't have to take the machine out of rotation later to do an upgrade," Dargatz says.
Buying the right package at the outset affects O&O costs and residual value. Jon McKendry, market segment manager for Trimble Machine Control, says, "We typically see customers move their technology across machines in the aftermarket, enabling them to leverage their initial investment on subsequent machines." He says 3D components form the largest part of the cost equation and those components are easily moved from one machine to another. "This adds value to the fleet rather than individual machines, giving contractors flexibility when they sell a single machine." McKendry spoke on behalf of Kobelco, since Kobelco offers Trimble systems for their excavators.
Mixed availability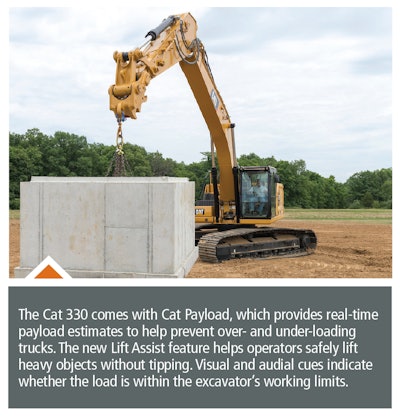 Not all OEMs offer all levels of machine guidance and control on all models and knowing who offers what on which model requires a bit of research.
John Deere and Hitachi have a Grade Reference Ready option from the factory. "This enables dealers and customers to choose the grade guidance or control offering that is best for their application and best for their pocketbook," says Jonny Spendlove, product marketing manager, excavators.
"Select Hyundai excavators are ready for the installation of the Trimble Earthworks system, which has been calibrated and tested for Hyundai," says Corey Rogers, marketing manager, Hyundai Construction Equipment Americas.
Link-Belt offers 2D Machine Guidance (MG) and 2D Machine Control (MC) as a factory option on only the 210 X4; it will be available on other models in the near future. "We started with the 210 X4 because it's our most popular machine," says Rob Dulaney, Link-Belt product marketing specialist. MG provides visual and audial cues to help the operator maintain the desired grade. MC automates movement of the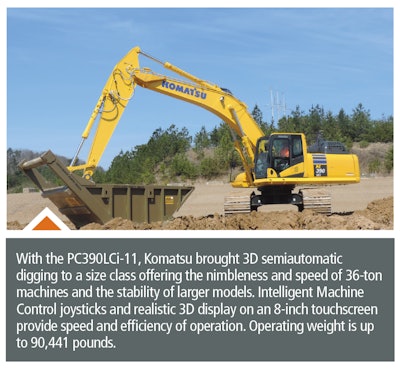 boom and bucket to keep the bucket cutting edge on the target grade through semi-autonomous operation. While MG uses the in-cab machine monitor, MC comes with its own 10-inch touchscreen display. Link-Belt offers Trimble Earthworks for customers who want 3D machine control. 2D can be factory ordered on new machines; Link-Belt will also offer a field install kit for customers who want to add 2D to their existing 210 X4 machines.
Volvo debuted Dig Assist on just one machine, the EC220E, at ConExpo in 2017. It will offer it on all crawler excavators, from the EC220E to the EC480E, soon and the company will add it to remaining full-size crawler models at least as an option later this year. It will remain optional on wheeled excavators, says McLean, "because wheeled models are popular with municipalities, and those customers are very price sensitive." Dig Assist uses Volvo Co-Pilot and that system's 10-inch high-resolution touchscreen.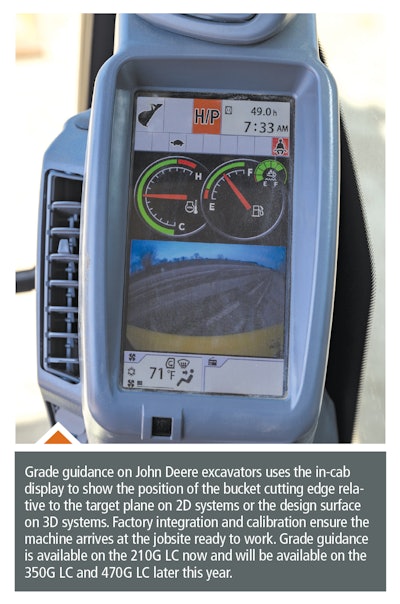 Dig Assist Start does not have GNSS capability or a smart receiver but comes with a laser catcher. Dig Assist 2D features GNSS; with the optional In-Field Design feature, 2D can be used to create custom digging profiles from the cab and place 3D profiles directly into the interface. Volvo is testing Topcon and Trimble systems and will offer those later this year. These systems will overlay Dig Assist and allow operators to toggle between Dig Assist and the Topcon or Trimble system.
The PC390LCi-11 is the latest model in the Komatsu lineup to have 3D, fully integrated machine control as standard. 3D includes giving the operator the ability to achieve grade anywhere on the jobsite without being limited to planar surfaces and benchmarks, says Sebastian Witkowski, product marketing manager, Intelligent Machine Control. He says Komatsu is seeing many first-time machine-control users starting with 3D and skipping over the 2D option. The 3D feature is now standard on all machines, from the PC210LCi-11 to the PC490LCi-11.
Komatsu says it is helping customers get the most from their Intelligent Machine Control system. "Customers have one point of contact for all their service questions through our Technology Solutions Experts program," says Witkowski. "That's true whether they're inquiring about PM intervals or 3D machine control."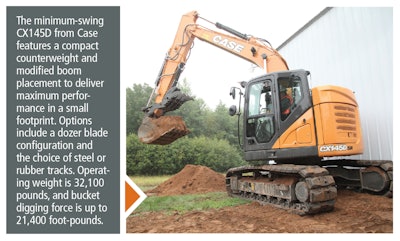 Cat offers Cat Grade 2D as standard equipment on the 330 but not the 330 GC. Those aren't the only differences. While dig depth, loading height and max reach at ground level are within inches of each and although both use the Cat C7.1 engine, the 330 has significantly more horsepower (275 versus 204 for the 330 GC) and a slightly higher operating weight (68,125 pounds versus 67,460 pounds for the 330GC). Which brings us to the next point.
Beyond intelligence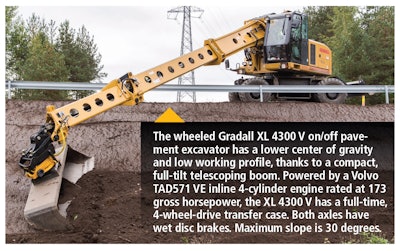 OEMs have made improvements to their machines beyond the addition of machine control. On its 30-ton excavators, Cat offers Comfort and Deluxe cab configurations plus a Premium cab package in some markets. Features common to all include keyless push-button start, a large touchscreen monitor with jog dial keys for control, and sound-suppressed rollover protective structures. Deluxe and Premium cabs feature tilt-up consoles for easier entry and exit and new cab mounts that reduce vibration up to 50 percent over previous models.
Rogers says Hyundai offers operators three means of interacting with their machines. Of these, push buttons have been around the longest; touchscreen monitors are newer; and haptic controllers are the latest development, a feature pulled from the automotive market. "The haptic remote control uses vibrations and pulses to guide the operator through menu selections for maximum convenience," says Rogers.

Spendlove says Deere and Hitachi excavators come standard with telematics, geofencing and visibility to machine work levels. They have enhanced operator comfort and convenience offerings, such as optional leather seating with heating and cooling, a pattern changer as standard equipment and wider, high-visibility seatbelts.
Many features address safety. Hyundai has AAVM (All-Around View Monitoring) to provide a 2D, four-channel, 360-degree view around the excavator. Their IMOD (Intelligent Moving Object Detection) gives visual and audial alerts when a person or object is within 16.5 feet of the machine. An optional LED light package with two lights each on the frame and boom and three on the cab improve visibility, especially in low light conditions.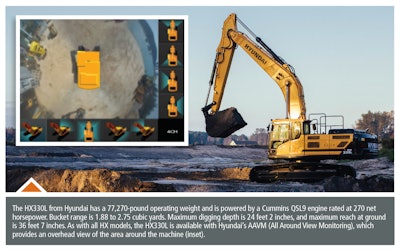 Gradall is focusing on multi-tool machines. They want to provide the perfect match for specialized tools grouped by application or market: construction, municipal, forestry, rail and more. "We already have an advantage in that we can work under bridges and other overhead obstacles, in culverts and a host of other challenging environments where backhoes and traditional excavators don't work well, if at all," says Mike Popovich, vice president of sales. "These specialty applications are an insignificant portion of sales for the big OEMs but an important part of our volume. We want to get better at meeting customers' needs in niche markets by helping customers easily spec the complete machine."
Gradall machines also have an advantage in that they're designed to work with knuckles and tiltrotators. Adding these features to conventional excavators can reduce breakout force and affect stability, especially when working over the side, says the company.
Manufacturers are also making changes to their electronics in areas other than machine control. Link-Belt offers RemoteCARE on all properly equipped excavators, with no subscription fee. This means RemoteCARE follows the machine to the secondary market and beyond, adding residual value. Volvo excavators come with onboard weighing architecture; activating the feature requires only the purchase of a software package. Joysticks on Volvo machines have tiltrotator controls and outrigger and blade controls on wheeled models.
Andrew Earing, excavator product manager, Komatsu, says their proportional joystick controls make the most of advanced work tools. With a hammer, for example, control is more natural than the heel-and-toe method required with foot pedals. Diagnostics available through the in-cab monitor can provide information on more than 160 points, depending on the model of excavator.