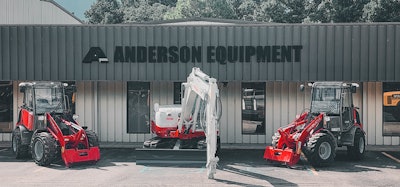 Takeuchi
Takeuchi Adds Anderson Equipment Locations in Pa. and W. Va.
Anderson Equipment locations in Bridgeville and Somerset, Pa. and Bridgeport, W. Va. have joined the growing Takeuchi dealer network.
Anderson already carries Takeuchi's full line of compact excavators, track loaders and wheel loaders at 12 of its locations in West Virginia, New Hampshire, New York, Maine and Vermont. The company has 19 locations total, offering new and used equipment sales, rentals, rent-to-buy, leasing, and OEM-authorized parts and service.
"We've been representing Takeuchi at many of our branches for more than a decade now, and our customers have come to recognize and value their quality equipment," said Bill Gex, CEO of Anderson Equipment. "Now, we're excited to introduce customers in Bridgeville, Somerset and Bridgeport to the difference that Takeuchi compact excavators, track loaders and wheel loaders can have on their productivity and profitability."
Each of the three newly added branches will have Takeuchi equipment and parts in stock, Takeuchi-trained sales staff and an in-house, factory-trained technician.
"Anderson Equipment has been an outstanding dealer for Takeuchi since 2010," said John Vranches, division sales manager for Takeuchi-US. "We're very pleased to have three more of their locations now offering Takeuchi equipment. The staff at Anderson does a great job of understanding the features and capabilities of each machine and applying them to a customer's unique situation for the best possible outcome. We thank Anderson Equipment for putting even more faith and trust in Takeuchi, and we look forward to continuing our successful relationship with them in the years ahead."
Hyundai Construction Equipment Americas

G4 Construction Equipment Joins Hyundai Dealer Network
Denver-based G4 Construction Equipment has joined the HD Hyundai Construction dealer network.
The dealership will represent the full line of Hyundai construction equipment throughout the Front Range region of eastern Colorado and southeastern Wyoming.
"The Hyundai brand is a perfect fit for our dealership," said Terri Priday, president, G4 Construction Equipment. "The Hyundai product line fills a need in our market for reliable, high-performing equipment."
Priday continued, "Our dealership management team has an extensive background in infrastructure development and energy markets, which gives G4 a deep understanding of our customers' needs and perspectives. We are dedicated to supporting our customers' success by providing high quality machines and exceptional service and support."
G4 will also offer its customers parts support, service, equipment warranties, and financing options.
"Hyundai is excited to add a new, energetic dealership to our network," said Matt Brown, district manager for Hyundai. "G4 and its management team bring a fresh perspective from their long experience on the customer side of the construction equipment business. We are confident that will translate into successful customer relationships for G4."
LiuGong

LiuGong Expands with Cornerstone Equipment
LiuGong has added Dry Ridge, Kentucky-headquartered Cornerstone Equipment to its construction equipment and material handling dealer networks.
Cornerstone's three branches help to cover the tristate area of Kentucky, Ohio, and Indiana.
"The vision of Cornerstone Equipment's future and the LiuGong future in North America align perfectly," Cornerstone Equipment CEO Devin Ponder said. "Our team is uniquely qualified to be the market leaders in construction and material handling equipment sales, service and rental operations in the tristate area.
"The broad product line offered from LiuGong covering both construction and material handling equipment fits our target customer base perfectly. The value of bringing machines with industry-leading components to market at an extraordinarily competitive price and lead time is exciting."
Andrew Ryan, president, LiuGong North America, added, "There is a strong family history that Cornerstone Equipment has established, along with a pursuit of excellence and strong vision for what they want to achieve. It's a great addition to our LiuGong dealer network across both construction and material handling equipment."
Bomag

BOMAG Names Power Motive Corporation as Full-Line Dealer
BOMAG has signed Power Motive Corporation (PMC), with locations in Phoenix, Chandler, and Tucson, Arizona, as a new dealer for its full line of equipment.
PMC also offers a full range of earthmoving and construction equipment. Adding BOMAG's complete line of compactors, pavers, milling machines, and landfill equipment enables PMC to be a one-stop solution for its customers, BOMAG says.
"We found this and more with BOMAG," says Dan Burget, vice president of Power Motive Corporation. "Beyond the one-stop shopping experience for our existing customers, BOMAG's broad range of paving and milling equipment allows us to serve a broader range of contractors. We are excited to move forward and foster more customer relationships with BOMAG."
"Power Motive's business model of offering strong product support aligns with ours, and their reputation for providing superior after-the-sale services is already paying off for BOMAG in Arizona," says Cole Renken, vice president of sales and marketing for BOMAG Americas. "We are proud to welcome them into the BOMAG network. This partnership is truly a winning combination for all contractors in the state."