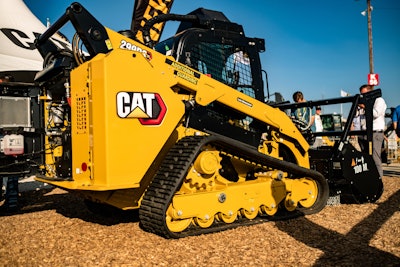 JCB Fastrac hits 153 mph to shatter its own world record for fastest tractor
Apparently setting one world record in 2019 wasn't enough for the folks at JCB. Following record-breaking runs in June that made the JCB Fastrac the world's fastest tractor, the team has managed another series of test track runs that have left the previous record in tatters.
At the core of the modified tractors making these insane runs is a JCB 8000-series Fastrac tractor. Unmodified, these tractors are capable of a top speed of 43 mph.
To read more, click here.
---
2021 Chevy Colorado ZR2 gets new front end design
For the 2021 model year, Chevrolet has unveiled an updated design for its Colorado midsize pickup.
Chevy says all 2021 Colorado variants feature revised front Chevy bowtie emblems and a new tailgate design embossed with the Chevrolet word mark. Previous models had the bowtie on the tailgate.
The WT, LT and Z71 Colorado trim levels will all receive updated center bars, front skid plates and a front end design whose nose has been lowered. WT and LT will also feature new gold Chevy bowtie logos, while the Z71 gets a black bowtie logo.
To read more, click here.
---
VIDEO: The New Cat D5 Dozer: Everything you need to know!
Replacing the D6N, this is Caterpillar's new D5 dozer. Click below to see our full video and an in-depth look at this machine and all of its new features.
To see the video, click here.
---
Liebherr's prototype battery-powered LB 16 drilling rig has 10-hour run time (VIDEO)
Liebherr's electric-hydraulic LB 16 "unplugged" drilling rig, first seen at Bauma, is now in field testing with customers. The term "unplugged" is used because the machine can be operated without a cable.
"A battery-powered drilling rig was a requirement on the road map for deep foundation machines," says Holger Streitz, managing director engineering and design at Liebherr's Nenzing, Austria, plant, where the LB 16 is produced. A production schedule for the machine is still in question as Liebherr continues to evaluate the machine.
To read more and see a video of the machine in action, click here.
---
Cat intros 299D3 XE Land Management CTL for heavy-duty vegetation control (VIDEO)
Cat's 299D3 XE Land Management compact track loader takes aim at such vegetation-management applications as mulching, brush cutting, vegetation control and mowing.
Check out our full video coverage of this CTL as well as all the details and photos by clicking here.
---