Cat's 299D3 XE Land Management compact track loader takes aim at such vegetation-management applications as mulching, brush cutting, vegetation control and mowing.
Check out our full video coverage of this CTL right here, or read on for more details and photos.
Included in the company's D3 Series skid steer and CTL introduction, the 299D3 XE Land Management model has a turbocharged 110-gross-horsepower Cat C3.8 engine that combines with a 40 gpm high-flow/high-pressure auxiliary hydraulic system to produce a 94-horsepower hydraulic horsepower rating. This enables the machine to power high-production hydromechanical attachments such as mulching heads.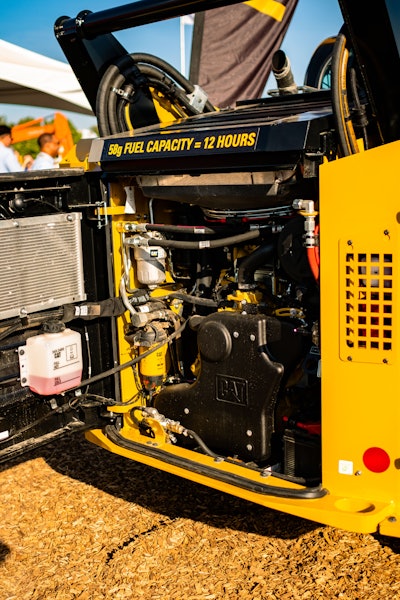 The unit's 58.1-gallon fuel capacity is 80 percent larger than the tank on a standard 299D3 XE model and provides an estimated run time of 11 to 12 hours. "While you're out on these types of projects, there's not always a place to fuel," says Kevin Coleman, product application specialist. "Operators now can do that work without worrying how to fill their tank to finish the day."
Weighing 12,764 pounds, compared to the 299D3 XE's 11,756 pounds, the Land Management machine has 6,200-pound rated operating capacity at 50 percent, compared to the 299D3 XE's 5,085-pound ROC. The Land Management unit costs about 12 to 15 percent more than the 299D3 XE, Coleman says.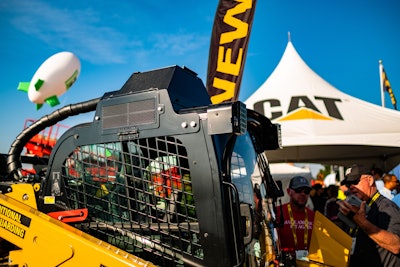 A one-piece sealed and pressurized cab keeps the operator's cab clean and quiet in challenging applications. "Keeping the operator comfortable in those conditions is important, because they're usually out there for a long time," Coleman says.
The machine also has additional seals and covers to restrict debris and other materials from entering the engine compartment and lower frame. Large panels can also be removed to aid cleaning. A turbine-type pre-cleaner ejects dust, dirt and debris from engine-intake airflow before it reaches the filter, extending air-filter service life. "We also offer a fire suppression system as an option," Coleman says, either as a factory-installed system or aftermarket add-on.
Guarding protects front and rear LED work lights, the attachment coupler area, attachment electric harness connections and auxiliary hydraulic quick-disconnect fittings. A cooling system reversing fan feature clears the intake screens of debris.
A steel track option is also available.