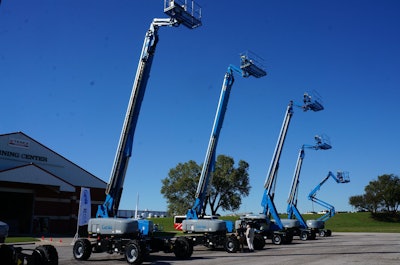 Terex Corp. posted an 8 percent increase in net sales in the second quarter over the same period in 2018, excluding the foreign exchange impact.
The company's aerial work platform division, which consists of Genie and Terex Utilities brands, were up 5 percent, excluding the foreign exchange impact, to $870 million.
The global backlog for Terex AWP remains stable with last year's numbers at $746 million, the company reports. Net sales totaled $1.3 billion in 2Q 2019.
Company executives say the AWP global market is healthy, and the North American utility market remains strong. "We expect the second half of 2019 to be similar to the second half of 2018 from an overall revenue and operating margin perspective," said Matt Fearon. Genie president, Terex AWP.
Terex also reports a strong showing in China and expects long-term growth in the Asia-Pacific region.
Some other highlights of the report:
The sale of the Demag Mobile Crane line to Tadano should be completed soon.
The sale of Terex's boom truck, truck crane and crossover product lines to Load King has been completed.
The construction of Terex Utilities' new manufacturing plant in Watertown, South Dakota, is on schedule.
The quarterly dividend was increased 10 percent to $0.11 per share.
Second-quarter cash flow is $168 million, more than double last year's.