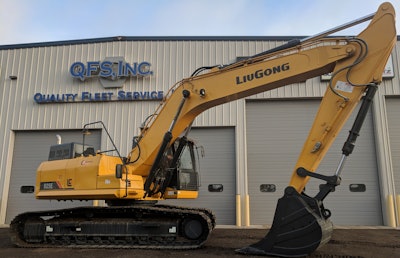 LiuGong North America has named Quality Fleet Service, South Hadley, Massachusetts, and Jewell Machinery, Rocky Mount, Virginia, to its network of dealers.
Established in 2005, Quality Fleet Service specializes in the maintenance, repair and refurbishment of a wide variety of heavy equipment, on-highway trucks, industrial and marine engines and gen sets. The dealer has a 15,000-square-foot full service repair center and offers equipment hauling.
According to Nicholas Moynihan, Quality Fleet Service president, the company will offer LiuGong's wheel loaders, excavators, compact equipment, along with Dressta dozers. The LiuGong NA line uses Cummins and Perkins engines, a selling point for Moynihan. "I knew of LiuGong equipment already, and I've worked on Cummins and Perkins engines. I know their reliability first-hand," he says.
Founded in 2000, Jewell Machinery offers machinery and parts sales, service and rental to the construction and forestry industry within a 300-mile radius. The company has been named twice to Inc. 5000's list of fastest-growing private companies in America.
Although Jewell entered the forestry industry just 10 years ago, it now represents around 95 percent of its business. The company specializes in mobile and stationary loaders and also manufactures self-propelled carriers. It also carries Barko forestry loaders.
"We see an exciting opportunity here," says Michael Jewell, founder and president. "LiuGong has an extensive equipment line, really anything our customers need, from Dressta dozers to LiuGong wheel loaders, excavators and more."
Jewell Machinery facilities include a 19,000-square-foot store and new 22,000-square-foot shop with 13 service bays. It has 22 full-time employees.