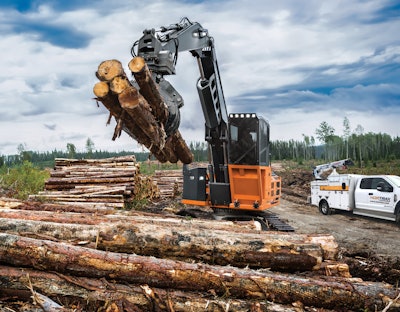 Hitachi's purpose-built forestry products are now part of Nortrax's equipment offering in eastern Canada.
The products "will be a strong complement to Nortrax's John Deere offering," creating a "natural fit as both product lines and manufactured through the Deere-Hitachi Specialty Products (DHSP) joint venture in Langley, British Columbia," says a release on the announcement.
"Nortrax is excited to see the Hitachi DHSP products join our lineup," says Chris Holmes, Nortrax president and CEO. "The focus at Nortrax is providing equipment uptime through proactive customer support. We are leading the charge through advanced technologies and our industry leading machine monitoring and support. We're confident that customers will see the positive change immediately."
Nortrax operates 29 John Deere dealer branches in eastern Canada. The area of responsibility for Hitachi forestry products will include all of its Ontario, Newfoundland, Labrador and Quebec locations.
Nortrax also operates John Deere construction and forestry dealerships in New York, Vermont, New Hampshire and Maine.