Alta Equipment Company (Alta Equipment) has been named Volvo Construction Equipment North America's 2018 Dealer of the Year.
The Detroit, Michigan-based company demonstrated outstanding performance over the last year, when it intensified its efforts to improve customers' experiences and entered a new market, Illinois, reinforcing Volvo CE's presence in the Midwest, Volvo CE says.
Volvo CE's Dealer of the Year Award recognizes the dealership in North America that best promotes the Volvo brand and the company's core strategies: to provide the highest uptime in the industry, offer unique customer solutions and ensure the best value at any stage in a machine's lifecycle, a press release says.
"We are thrilled to be recognized as the 2018 Volvo Dealer of the Year," says Rob Chiles, president of Alta Equipment, Construction Group (CE Group).
"Our passion for customer service combined with representing the best brand in the business – Volvo Construction Equipment – enables us to exceed customer expectations while delivering impeccable sales, rentals and customer service."
Alta Equipment entered the construction equipment business in 2010 to compliment an existing industrial equipment business, and was able to leverage a solid customer base to generate cross-selling opportunities, Volvo CE says.
The company has seen dramatic growth in territory as well as its workforce.
Alta Equipment now has 24 locations, including nine for construction and 17 for industrial equipment. All 24 locations rent equipment, too.
By expanding its territory into Central and Northern Illinois last year, the company boosted Volvo CE's market share in the Midwest. Alta Equipment is one of the top performing dealers in the country and was recognized by Crain's Detroit Business as one of the 50 fastest-growing companies in 2018.
"If there are two words to describe the 2018 Volvo CE Dealer of the Year, they are: 'can do.' Alta Equipment's team has demonstrated an incredible capacity to solve challenges and to deliver a superior customer experience," notes Stephen Roy, president of sales region Americas, Volvo CE.
"They are fantastic partners who help us on our mission in building the world we want to live in."
Alta Equipment was also recently named as 2018 Dealer of the Year by Big Iron Dealer.
The construction division of the company, headquartered in New Hudson, Michigan and established in 1984 as a forklift dealership, went from 12 employees to 310 employees in just six years.
Acquisitions include Evans Equipment, Burton, Michigan and the recent purchase of Elite Heavy Equipment Services, Spring Grove, Illinois.
The division's nine construction locations in Michigan, Indiana and Illinois feature Volvo Construction Equipment as its flagship line.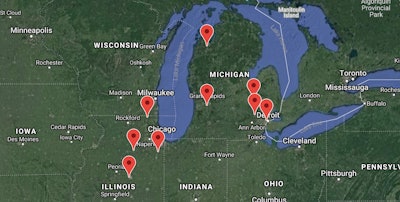 Alta also represents more than 30 OEMs and offers Link-Belt cranes; Genie aerial lifts; Takeuchi, Avant and Gehl compact equipment; and Roadtec roadbuilding products. Terramac recently named Alta as its dealer for Michigan and northern Illinois.
In addition, Alta Equipment's industrial division offers lift trucks and other warehouse products and solutions and, when added to the construction division, brings the number of employees in the company to more than 850.