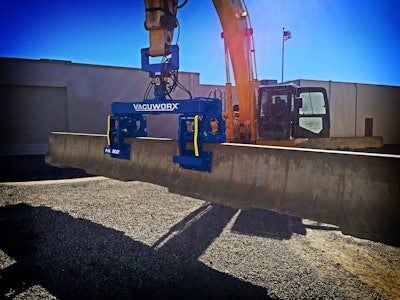 Vacuworx has announced the expansion of its sales staff for North America with the addition of two new regional sales managers and the appointment of a business director for Canada.
The company says the new hires represent a response to "the potential for increased construction activities, due in part to upward trends of urbanization…and growing applications for vacuum lifting."
The new hires include:
Jeff Baldwin – With more than 20 years of experience in the sectors of oil and gas, construction, manufacturing and distribution Baldwin will serve as Regional Sales Manager. His responsibilities include working with Vacuworx dealers and end users in both the pipeline and construction markets in Oklahoma, Arkansas, Missouri, Kansas, Nebraska, Iowa, Illinois and North Texas.
Kevin Harvey – With a 22-year background in the construction industry, Harvey will serve as the Northeast Construction Equipment Sales Manager. With an emphasis on construction-related applications, he is responsible for developing a strong dealer network and promoting new business opportunities in New Hampshire, Vermont, Connecticut, New York, Maryland, Delaware, Maine, Rhode Island, New Jersey, Pennsylvania and Massachusetts.
Bernie Lailey – With more than 30 years of experience in the oil and gas and pipeline industries, Lailey has been hired as Business Director for all of Canada. Lailey has served as a board member and on the safety committee of the Pipe Line Contractors Association of Canada and is responsible for developing the market for Vacuworx lifting and material handling equipment in both the pipeline- and construction-related industries.
The sales staff expansion follows the October appointment of Randy Hayes to vice president of business development and strategic accounts. In this expanded role, Hayes will closely partner with national and key accounts as well as focus on new business opportunities across all of the markets that Vacuworx serves, the company says.