Doosan took another step this month toward increasing its North American heavy construction equipment presence by opening a new parts distribution center in Georgia to speed parts delivery to dealers and customers.
The 100,000-square-foot parts center in Suwanee is Doosan Infracore North America's first major project toward its goal of eventually entering the top-5 list of equipment brands on the continent, company officials said.
The company split its heavy-equipment sector from Doosan Bobcat in early 2018 and moved its new headquarters to Suwanee, about 30 miles northeast of Atlanta. The new subsidiary had shared a parts distribution center in Chicago with Doosan Bobcat. On December 10 that changed, as the Suwanee parts center opened for business after Doosan parts were moved from Chicago, and more parts to supply dealers and customers were brought in.
"It's not just a relocation of the PDC," said Doosan North America CEO Edward Song. "It's actually rightsizing the amount of the inventory." Song said the new center will lead to increased, faster, more efficient service to dealers and customers.
The center should also lead to lower freight costs, as the parts will now be closer to the company's dealers in the eastern United States, and parts can be shipped throughout the U.S. and Canada for servicing Doosan construction equipment. It will enable the company to provide delivery times of less than two days, he said.
The center will mean less need to ship parts from overseas and less shipping costs. "Our goal here is to get your parts faster and also reduce the freight to you and your customers," said Clay Caldwell, the company's director of parts and service.
Along with a new location, the center has double the space of the Chicago center and will stock 40,000 units, according to Caldwell, who led a tour of the center December 11 for company officials and dealers. The event was capped off with a ribbon-cutting ceremony.
The facility is also configured differently from the Chicago parts center, with added technology and a design to help the company rev up efficiency. For example, the aisles are much narrower and the racks taller than the Chicago center, allowing more inventory to be stored in a smaller area. To reach the parts quickly, the center has specially designed narrow wire guided equipment that takes warehouse staff directly to the parts being ordered. Wires extend under the grout in the floor and send signals to the personnel-lift machines to direct their movement between the shelves.
Also unlike Chicago, the Suwannee center has larger areas to store items such as cabs and large components and has sections designated for pipe storage.
The center's machinery, including the forklifts and pallet-wrap robot, is equipped with telematics so staff can analyze machine data to find operating efficiencies.
The center will operate with two shifts, 5 a.m. to 1 p.m. and 1 p.m. to 9 p.m. It will be run by logistics company DHL Supply Chain, which Doosan contracted with as a third party. Fifteen DHL personnel will be staffed at the center. Doosan has contracted with DHL at parts centers in Singapore and Germany.
"We're very familiar with this partner, and we're very excited to have them on board," Caldwell said.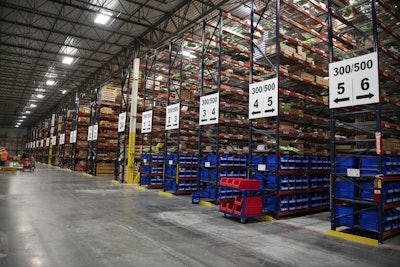 During the ribbon-cutting ceremony, JS Ahn, Doosan executive vice president, noted that since the company launched its North American subsidiary, it "is now under one global governance." The company has direct communication with corporate headquarters in South Korea.
"This new PDC will allow us to much improve parts availability so that we can better support our customers and better support our dealer partners," Ahn said.
Song also cited the global governance and support as making the new parts center possible. He credited the company's dealers, as well. "You told us there was a need for better part support service that would enable better customer support," he said.
That prompted the company to begin planning the new center in March. "And after eight months, we are now here celebrating not only the opening, but this actually is the very first step of the completion of the commitment that we had set out," Song said. "…I'm sure that not only this facility but the support and efforts that we have put together will enable us to become top 5 in North America in the equipment industry."