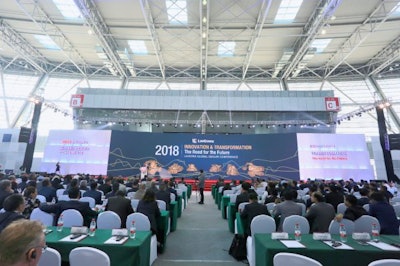 LiuGong's 2018 Global Dealer Conference held special significance this year as the company celebrates its 60th anniversary.
"From a remote enterprise to an international enterprise" was how LiuGong Group Chairman Zeng Guang'an, during his address, described the company's rise. The 15th annual conference was held in Guangxi, China, where LiuGong is headquartered, and was attended by more than 700 people from 70 countries.
LiuGong formed in 1958 in Liuzhou with 500 workers and designed and manufactured China's first modernized wheel loader in 1966, the company says. The company now has 15 product lines, 20 manufacturing facilities, over 8,000 employees, and more than 200 dealers in more than 100 countries.
As the company looked back on its accomplishments at the conference, it also looked ahead. The conference's theme was "Innovation & Transformation – The Road for the Future." In keeping with that theme, the company launched six products at its anniversary celebration the day before the conference, including the 990F excavator, 886H wheel loader, B170DL bulldozer and 4180 motor grader.
Major milestones over the company's 60 years include:
1958 – Founded in Liuzhou, China, as LiuGong Machinery Corporation.
1966 – Launches China's first modernized wheel loader, the Z435.
1980s – Launches second-generation wheel loader, the ZL50C. The company says it introduced Western wheel loader technology to China during this next phase of development.
1993 – Begins trading on the Shenzhen Stock Exchange.
2000 – Acquires Jiangyin Construction Machinery to enter roller business.
2001 – Begins building excavators.
2003 – Enters compact machine business. Holds its first Global Dealer Conference.
2004 – Enters road machine business. Establishes first overseas division in Australia.
2007 – Launches R&D center and manufacturing plant in India.
2008 – Establishes divisions in North America and Latin America.
2010 – Opens manufacturing plant in China to produce large excavators. Excavators have become the company's fastest growing segment, LiuGong says. Forms divisions in Europe, Asia Pacific, the Middle East and South Africa.
2011 – Forms joint venture with Cummins to produce mid-range engines.
2012 – Acquires civil construction machinery business of HSW in Poland and Dressta Construction Equipment, becoming a manufacturer of a full line of bulldozers.
2015 – Opens Global R&D Center & National Earthmoving Machinery Engineering Center in Liuzhou, China. The center spans 328,000 square feet, hosts a team of 1,000 engineers and includes indoor and outdoor testing areas. The company also has R&D centers in the United States, Poland and the United Kingdom.
2016 – Launches first Vertical Lift Wheel Loader.
2017 – Opens third overseas factory in Brazil. Moves its European headquarters to Warsaw, Poland. Launches "Made in Poland" excavators and wheel loaders for the European market.
2018 – Develops innovative torque converter to enable the company's 8128H – China's largest wheel loader – to overcome technical difficulties faced on the Sichuan-Tibet railway construction project, the company says.
"Looking forward to the future, innovation and transformation will remain vital to LiuGong," says company President Huang Haibo. "LiuGong is committed to becoming a world-leading construction machinery manufacturer. As a result, LiuGong's pursuit of a continuous progress in the overseas market will never stop."