By Richard Ries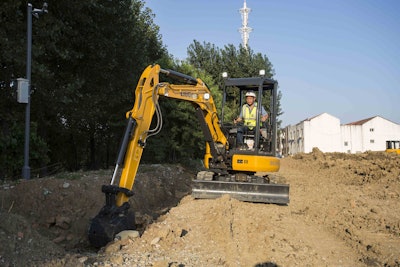 With field testing completed earlier this year, LiuGong North America's first Tier 4 Final, zero tailswing compact excavator is now available.
A Yanmar inline, 3-cylinder, naturally aspirated engine provides 24.4 gross horsepower. With the standard arm, the 9035EZTS has a maximum dig depth of 10 feet, 1 inch and reach at ground level of 17 feet, 2 inches. Bucket capacity is 0.144 cubic yards. A quick-couple connection is standard equipment; operators can swap buckets and attachments in less than a minute without leaving the cab, the company says.
The ROPS cab has a 79-decibel sound level and is available with climate-control options. A color LCD monitor displays alarms, filter and fluid change intervals, fuel-consumption rate, water temperature, work mode, fault codes, hour meter, among other indicators. Placement of the engine and hydraulic systems provide optimal space for the full-size cab while maintaining serviceability, the company says. FOPS structures are optional.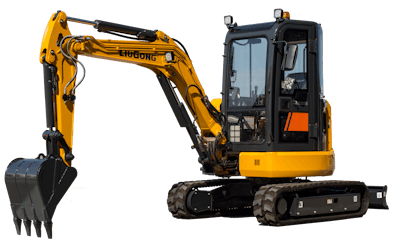 Tailswing is entirely within the machine's footprint of 6 feet, 11 inches by 5 feet, 7 inches, making the 9035E a true zero tailswing design. Rubber tracks are standard. The rubber tracks and low ground pressure of 4.9 pounds per square inch minimize damage and disruption to finished surfaces. Steel tracks are available. Track width is 12 inches for either steel or rubber. Two-speed drive motors provide top speeds of 2.8 mph in high and 1.7 mph in low. Maximum gradability is 30 degrees (58 percent).
The hydraulic system contains Kawasaki components. Maximum flow is 24.4 gallons per minute; maximum pressure is 3,553 pounds per square inch, and total system capacity is 18.5 gallons. The main pump is a variable-displacement piston type; the pilot pump is a gear type providing 2.3 gpm of flow. The pilot circuit includes a filter and shut-off control. Optional double-acting (two-way) auxiliary flow is available for use with shears and breakers.
Operating weight is 8,510 pounds with a full fuel tank, all coolant and lubricants and standard equipment including the 1,235-pound counterweight. This allows the 9035E to be hauled by trailer behind many standard pickup trucks. LiuGong also offers an auxiliary counterweight.
Effective boom length is 8 feet; overall boom length is 8 feet, 4 inches. Two arms are available: 4 feet, 4 inches effective (5 feet, 7 inches length overall) and 5 feet, 7 inches (6 feet, 11 inches length overall). Dump height is 10 feet, 10 inches with the shorter arm and 11 feet, 4 inches with the longer arm. Bucket digging force with either is 6,744 pounds. A straight blade is standard equipment and has a float feature for smoothing over back-filled trenches. A longer blade is also available.
Next on the LiuGong's release schedule is the 908E, a Tier 4 Final replacement for the Tier 3 908D. The 908E is scheduled for release later this year.