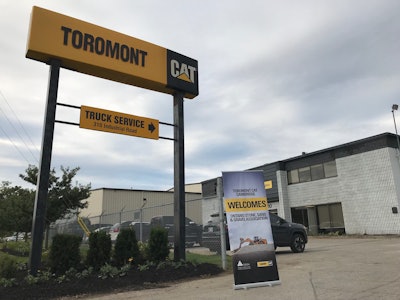 Toromont Industries, based in Ontario, Canada, is reporting a revenue jump of 54 percent in the third quarter and 66 percent year-to-date.
That's with Toromont QM contributing $322 million in the quarter, and $913 million year-to-date, the company says.
Net earnings grew 39 percent during the quarter and 43 percent year-to-date. On a year-over-year comparable basis, the legacy businesses' bottom line grew 7 percent in the quarter and 18 percent year-to-date, the company says.
October 27 marked the one-year anniversary of the acquisition of the company's Maritimes and Quebec operations, according to Scott Medhurst, CEO and president, during an earnings call.
"Our Caterpillar geographic territory is now contiguous and covers Manitoba, Nunavut, Ontario, Quebec, Nova Scotia, New Brunswick, P.E.I., and Newfoundland and Labrador," he says.
Medhurst says branding has been integral.
"We now have completed the rollout of our brands across Quebec and the Maritimes for all of Toromont CAT, Toromont Material Handling and Battlefield-The Cat Rental Store. Leadership appointments took root and the teams were engaged almost immediately. The new business structures, which emphasized the decentralized branch model has been unveiled and is in the early stages of the transition," he says.
"Integrating Toromont business philosophies that include enterprise alignment, empowerment and accountability remains ongoing and critical to our overall success."
Operationally, Toromont has advanced on significant integration of divisions and segments.
"In no particular order, we have aligned people and reporting structures for our power systems, mining, material handling, heavy rents and used equipment divisions, all have more robust go-to-market strategies," the CEO says.
"Additionally, we have consolidated our marketing department with a heightened focus on actively promoting the Toromont brand along with our sales operations group."
Medhurst adds that at Battlefield, "we've made great progress rolling out the complete rental service model that includes a broader product line which will help meet the customer needs over a 12-month period. This integration also includes customer-centric interface solutions."
Infrastructure projects and broader construction activity continued to present opportunities, the company says, and the long-term outlook remains positive across most territories.