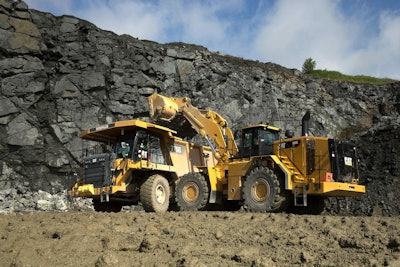 Calling it its largest transaction ever, Toromont Industries of Canada has offered to purchase Hewitt Equipment, also of Canada, to create one of the larger dealerships in the Cat network.
The deal, valued at 1.02 billion Canadian dollars, or about $814 million U.S., would allow Tormont to expand to 120 branches in Nunavut, Manitoba, Ontario, Quebec, New Brunswick, Prince Edward Island, Nova Scotia and Newfoundland & Labrador. The deal closed October 27, 2017.
Hewitt, based in Pointe Claire, Quebec, sells, rents and services Caterpillar and other products. It has 45 branches across eastern Canada, 2,100 employees and revenues of over 1 billion Canadian dollars. Hewitt is also the MaK dealer for Quebec, the Maritimes and the eastern seaboard of the United States, from Maine to Virginia. MaK is Caterpillar's brand for heavy fuel oil, marine diesel, gas and dual fuel engines for marine applications.
Toromont has 3,600 employees, and the acquisition is the largest in its 56-year history. The company says it plans to maintain existing facilities following the deal and follow a decentralized business model in which "regional leadership will continue to run their businesses locally empowered to make decisions."
During a conference call Monday, Toromont executives cited a growing trend toward consolidation of dealerships and their desire to follow a growth strategy enacted 10 years ago as impetus for the purchase. They also cited the recovery of the mining sector and the Canadian government's plan to spend $91 billion Canadian dollars on infrastructure over the next 10 years as helping to drive equipment demand and further growth for the company.
"The acquisition delivers a substantial growth opportunity, allowing us to expand into the significant Quebec, Western Labrador and Maritime markets," said Scott J. Medhurst, Toromont president and CEO, "and strengths our expertise in the mining, construction, power systems and forestry sectors."
Toromont will fund the acquisition through a mix of cash, debt financing of up to 750 million Canadian dollars and the issuance of 2.25 million Toromont shares worth about 100 million Canadian dollars.
Editor's note: This story was updated to reflect that the deal was closed and to correct that the acquisition was Toromont's largest ever.