It was 2012 and the construction division of Alta Equipment began what Rob Chiles, construction equipment president for the firm, describes as the start of "an awesome journey."
Aspects of the trip, however, don't sound so great.
"We were a 747 headed straight for the ground and we had to fix things in flight," Chiles says.
But what a fix it was. The construction division of the company, headquartered in New Hudson, Michigan and established in 1984 as a forklift dealership, went from 12 employees to 310 employees in six years. Acquisitions along the way include Evans Equipment, Burton, Michigan and the recent purchase of Elite Heavy Equipment Services, Spring Grove, Illinois. (More on that later.)

The division now has nine locations in Michigan, Indiana and Illinois with Volvo Construction Equipment as its flagship line. Alta also represents more than 30 OEMs and offers Link-Belt cranes; Genie aerial lifts; Takeuchi, Avant and Gehl compact equipment; and Roadtec roadbuilding products. Terramac recently named Alta as its dealer for Michigan and northern Illinois.
In addition, Alta Equipment's industrial division offers lift trucks and other warehouse products and solutions and when added to the construction division brings the number of employees in the company to more than 850.
"Yes, our growth strategy has been aggressive," Chiles says, "but it has not been mere chance. Alta's success is reflective of our guiding principles: Invest in the Best, One Team, Mutual Respect and a Passion for Excellence. This is the same mindset that is the catalyst of our growth into Northwest Indiana and Illinois."
In October, Equipment World's editors named Alta Equipment's construction division Big Iron Dealer of the Year, in an inaugural program sponsored by online network platform Krank.
A culture of success
"If we boil it down to one thing, it's our culture," Chiles says. "We have a 'customer for life' philosophy where execution is everything."
An integral part of this philosophy is developing customer intimacy. "You have to really understand your customer's business, and help them through both good and bad times," Chiles says.
With Alta Equipment's same-day solution approach, customers may not have a working machine at the end of the day, but they will have a solution – such as a loaner or rental – that will put them back to work, according to Chiles.
This also means that the company is committed to stocking 10 to 15 percent more parts inventory than usual, Chiles says: "One of our mantras is 'uptime matters.' Time is money in this business and contractors want lean fleets and want dealers to hold the inventory. We spend a lot of time making sure parts are on the shelf."
And the same-day solution approach has prompted the company to develop a more robust rental fleet. "We also view rent-to-rent as a good entry point for certain customers," Chiles says. "People are more likely to test you out on an aerial lift than on an artic."
Detroit Training Center
Anyone can sell and rent equipment, says Chiles, but service is where the rubber really meets the road. With service technicians an essential part of that equation, the limited pool of qualified techs prompted Alta Equipment to help grow their own. "The person you train is more apt to be loyal," he says.
And so four years ago Alta Equipment invested in an 80,000-square-foot facility located on a bus line in downtown Detroit.
There, the independent Detroit Training Center now offers training to local young people in a variety of technical skills, including diesel mechanics, equipment operation, asbestos abatement and obtaining their CDL. The DTC also offers courses in welding, real estate and construction and industrial safety.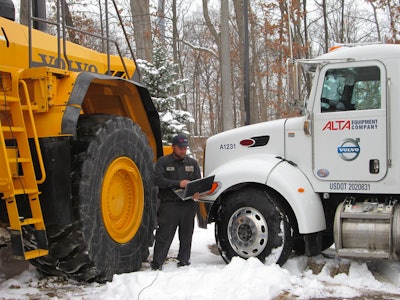 Service is the sale
This emphasis on service was one reason the company recently bought Elite Heavy Equipment, renaming it Alta-Elite.
In a press release announcing the April purchase, Alta CEO Ryan Greenawalt said Elite is "well known in the Illinois construction market for hiring the best technicians and providing outstanding customer service." He went on to say the acquisition would "jump start our ability to service our construction customers and position Alta as the service leader in the Illinois market."
Chiles further explains: "They've cracked the code in field service, and we believe we're a service company that just happens to sell equipment. The old saying in the industry is that the sales person sells the first machine and service sells the second machine, but we believe every machine is sold because of service."
And the Alta-Elite acquisition "proved our commitment to the region while we simultaneously staffed up and began to open brick-and-mortar locations," Chiles says.
The company is taking the Alta-Elite model and implementing it company-wide. This includes weekly calls that include both sales and service team members, in part to evangelize all members with the belief that the service tech is a critical part of the sale. "Sales people are typically not believed over a mechanic," Chiles explains.
"We believe the service tech sells the work and has great customer influence," Chiles says. "Part of customer intimacy is realizing it's never the process, it's always the people."
As part of this service emphasis, Alta equips technicians with soft skills and customer courtesies and it has nearly 100 service trucks covering three states. And after taking top North American honors, three Alta technicians will compete next March in Volvo CE's Equipment Masters Competition in Eskilstuna, Sweden, a competition open to Volvo CE dealer technicians throughout the world.
Another strategy is to have a goal of a ratio of 50 percent sales people/50 percent field service technicians on the road, Chiles says. "Recruiting is a lifestyle throughout our company," he adds. "If people have the aptitude, attitude, energy and are a cultural fit, we give them a chance. But there's no silver bullet in recruiting; you have to constantly reinvent it.
"We are the largest heavy equipment dealer in the Midwest," Chiles continues, "and will continue to increase our footprint where it makes sense."
Alta Cares
The company has enacted an "Alta Cares" internal pilot program that focuses on reducing costs, strengthening culture, improving productivity and measuring outcomes through simulated workplace initiatives.
The company also measures marketing results through multiple channels including customer surveys and implementing automated software technology to help intersect customer support with marketing, says Scott Sebastian, marketing and business development director, construction equipment group.
Using a "very aggressive" digital and social media strategy, Alta is targeting key customers. "It's more of a sniper approach using analytics and data, which gives us the ability to show a higher return with our OEMs. We have an impeccable relationship with our OEMs and it becomes an incredible two-way street," Sebastian says.
"Alta's incredible growth within the construction equipment segment is largely due to our organization's commitment to people, process and product," Chiles adds. "We certainly would not be in the position we are today without the exceptional products and support we receive from Volvo Construction Equipment."
Rob continues: "We have a gray collar mentality here. You have to do the work to understand it. No one is in an ivory tower."