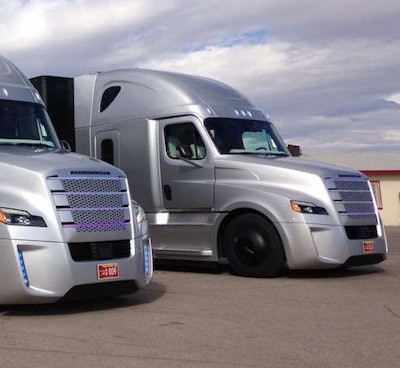 Freightliner Trucks has named "Elite status" to its top 44 sales professionals and seven sales managers. They'll be honored at a special awards ceremony early next year.
The 44 have been recognized with "Elite" status as part of Freightliner's annual Leland James Elite Sales Achievement program.
Created in 2003 in honor of Freightliner Trucks' founder, Leland James, the program recognizes and rewards outstanding sales results from dealer sales professionals throughout the United States and Canada.
Recipients were selected for on-highway, medium duty and vocational sales success, Freightliner says. The recognition also takes into consideration total number of customers, completing walk around presentation videos, training certifications and the criteria.
"Our Leland James Elite program recognizes sales professionals who sell to a variety of customers into many market segments," says Bob Correll, vice president of sales for Freightliner Trucks. "The winners are truly well-rounded and display the same hard work, determination and customer-focused attitude that Leland James embodied."
Added Tom Zielke, business training manager, Freightliner Trucks, "Each year we are proud of what these top dealer sales professionals accomplish. They work incredibly hard, and always place customers at the top of their priority list. They represent what the Freightliner name was built on and deserve to be recognized."
The full list of winners for 2016-2017 is below.
Elite Winners
Gurminder
Ahluwalia
Premier Truck Group of Mississauga
Mississauga
ON
Bob
Baldwin
Golden Gate Freightliner, Inc.
Oakland
CA
Dick
Baumunk
Premier Truck Group of Chattanooga
Ringgold
GA
Christian
Bazinet
Globocam Anjou, Inc.
Anjou
QC
Ryan
Beard
Peach State Freightliner
Jefferson
GA
Jeb
Berg
Freightliner of Utah
Salt Lake City
UT
Joel
Bezaire
Team Truck Centres – Windsor Ltd
Maidstone
ON
Kurt
Bohaboj
Truck Center Companies – Omaha, NE
Omaha
NE
Gary
Bond
Premier Truck Group of Dallas
Dallas
TX
Curtis
Brubaker
Freightliner of Harrisburg
Harrisburg
PA
Ruben
Budhwal
Premier Truck Group of Mississauga
Mississauga
ON
Tyler
Burbach
Truck Country of Wisconsin, Inc.
Milwaukee
WI
Luke
Burbach
Truck Country of Wisconsin, Inc.
Oak Creek
WI
Darren
Burke
Kentucky Truck Sales, Inc.
Jeffersonville
IN
Raj
Chand
First Truck Centre Vancouver, Inc.
Surrey
BC
Tim
Cory
Fyda Freightliner Columbus, Inc.
Columbus
OH
Greg
Danner
Truck Country of Wisconsin, Inc.
Kaukauna
WI
Paul
Degasperi
Tracey Road Equipment, Inc.
Henrietta
NY
John
Di novella
Truck Country of Wisconsin, Inc.
DeForest
WI
Mateo
Diaz
Golden Gate Freightliner, Inc.
Oakland
CA
Scott
Donovan
Stoops Freightliner
Indianapolis
IN
Lynn
Dundee
Houston Freightliner
Houston
TX
Ham
Eckert
Excel Truck Group
Chester
VA
Guy
Emerson
Premier Truck Group of Tulsa
Tulsa
OK
Barry
Evans
Los Angeles Freightliner
Whittier
CA
Pat
Fee
Freightliner Northwest
Coburg
OR
Danny
Felton
Empire Truck Sales LLC – Richland
Richland
MS
Dwayne
Frewin
Premier Truck Group of Mississauga
Mississauga
ON
Walt
Fyda
Fyda Freightliner Pittsburgh
Harrisville
PA
Julio
Gamino
Delta Truck Center
French Camp
CA
Chris
Gangaware
TAG Truck Center
Jackson
TN
Greg
Gates
Wolverine Freightliner-Westside, Inc.
Ypsilanti
MI
George
Gauvin
Fyda Freightliner Columbus, Inc.
Columbus
OH
Sam
Gayhart
Truck Country of Wisconsin, Inc.
Oak Creek
WI
Jeff
Gibbs
Premium Truck & Trailer, Inc.
West Kelowna
BC
Bryan
Glenn
Triad Freightliner
Greensboro
NC
Jim
Glindinning
Truck Country of Wisconsin, Inc.
Oak Creek
WI
Steve
Gustafson
Tri State Truck Center
Shrewsbury
MA
Kirk
Hajek
San Diego Freightliner
San Diego
CA
Paul
Hajos
Truck Country of Wisconsin, Inc.
Kaukauna
WI
Alan
Hansen
Truck Country of Wausau
Rothschild
WI
Clint
Heiber
Stoops Freightliner
Indianapolis
IN
Clinton
Hiett
Premier Truck Group of Dallas
Dallas
TX
Michael
Humes
Fyda Freightliner Youngstown, Inc.
Youngstown
OH
Mike
Iden
Lubbock Truck Sales, Inc.
Lubbock
TX
Ben
Isaacson
Freightliner of Utah
Salt Lake City
UT
Brian
Jackson
Empire Truck Sales LLC – Richland
Richland
MS
David
Jeff
Birmingham Freightliner
Birmingham
AL
Aaron
Jensen
Doggett Freightliner of South Texas LLC
Converse
TX
Andrew
Johnson
Premier Truck Group of Fort Worth
Fort Worth
TX
Jeff
Kealey
Francis Canada Truck Centre Inc.
Ottawa
ON
John
Keeney
Campbell Freightliner LLC
Monroe Township
NJ
Terry
Keith
Excel Truck Group
Charlotte
NC
Dave
Klein
Fyda Freightliner Columbus, Inc.
Columbus
OH
Matt
Kluesner
Truck Country of Wisconsin, Inc.
Kaukauna
WI
Ron
Knight
Fyda Freightliner Youngstown, Inc.
Youngstown
OH
Mitch
Lakin
Premier Truck Group – Knoxville
Knoxville
TN
David
Legrand
Truck Country Quad Cities
Davenport
IA
Jeff
Lutes
Truck Country of Iowa
Dubuque
IA
Gregory
Marr
Universal Truck & Trailer
Dieppe
NB
David
Meiners
Kentucky Truck Sales, Inc.
Jeffersonville
IN
Brandyn
Miville
Freightliner of Augusta
Augusta
GA
Tommy
Morgan
Freightliner of Utah
Salt Lake City
UT
Jay
Morrison
Four Star of Tallahassee
Tallahassee
FL
Dean
Needham
Sacramento Truck Center
Sacramento
CA
Kelly
Nelson
Dave Syverson Freightliner Sterling
Rochester
MN
Colby
Neumann
Premier Truck Group of Dallas
Dallas
TX
Barry
Newell
Empire Truck Sales LLC – Richland
Richland
MS
Blaine
Nicholls
Metro Freightliner Hamilton Inc.
Stoney Creek
ON
Jeff
Osborne
Truck Centers, Inc. – Evansville, IN
Evansville
IN
Steve
Petch
Metro Freightliner Milton
Milton
ON
Andrew
Peterson
Dave Syverson Freightliner Sterling
Rochester
MN
Roger
Pockett
Freightliner Manitoba
Winnipeg
MB
Josh
Rhodes
Premier Truck Group of Tulsa
Tulsa
OK
Maury
Rice
Carolina Freightliner of Raleigh, LLC
Raleigh
NC
Bryan
Sansouci
Freightliner of New Hampshire, Inc.
Londonderry
NH
Scott
Saxton
Freightliner of Utah
Salt Lake City
UT
Duane
Schaefer
TransChicago Truck Group
Elmhurst
IL
John
Scheller
River States Truck and Trailer, Inc.
Roberts
WI
Chris
Schrum
I-State Truck Center
Sioux Falls
SD
Tom
Siderius
Freightliner of Grand Rapids
Wyoming
MI
Michael
Snyder
Freightliner of Arizona
Tolleson
AZ
Brian
Stewart
Premier Truck Group of Fort Worth
Fort Worth
TX
Paul
Sulzmann
Valley Freightliner
Parma
OH
Dan
Swanson
Freightliner Northwest
Pacific
WA
Jay
Szymanski
Truck Country of Wisconsin, Inc.
Kaukauna
WI
George
Thrower
First Truck Centre Vancouver, Inc.
Surrey
BC
Casey
Tinkler
Springfield Freightliner Sales, Inc.
Springfield
MO
Rick
Vasquez
Bakersfield Truck Center
Bakersfield
CA
Dan
Walters
San Diego Freightliner
San Diego
CA
David
Wangsgard
Freightliner of Utah
Salt Lake City
UT
Rex
Willis
Freightliner of Utah
Salt Lake City
UT
Duane
Wittowski
Freightliner of St. Cloud
St. Cloud
MN
Jason
Young
Houston Freightliner
Houston
TX
Silver Elite Trip Winners
Anthony
Amadio
Campbell Freightliner
Monroe Township
NJ
Bob
Arrington
Tampa Truck Center
Tampa
FL
Adrian
Hamill
Premier Truck of Mississauga
Mississauga
ON
Dennis
Legrand
Truck Country of Iowa
Dubuque
IA
Lloyd
Swaringer
Freightliner of Utah
Salt Lake City
UT
Skaria
Thomas
New West Truck Centres
Calgary
AB
Rob Park Trip Winners
Jesse
Boyd
Doggett Freightliner
Converse
TX
Caleb
Cook
Valley Equipment
Hartland
NB
Bryan
Crawford
Los Angeles Freightliner
Fontana
CA
Ron
Donze
Truck Centers, Inc.
Troy
IL
Francois
Giguere
Globocam, Inc.
Montreal
QC
Craig
Patten
Campbell Freightliner
Monroe Township
NJ
Top 32 Elite Trip Winners
Greg
Allen
Stoops Freightliner
Lima
OH
Ken
Barton
Freightliner of Utah
Salt Lake City
UT
Chris
Bertagnoli
Truck Country of Wisconsin
Oak Creek
WI
Tony
Bodway
Truck Country of Wisconsin
Oak Creek
WI
Darryl
Breiner
Berman Freightliner
Leesport
PA
Dustin
Brigman
Tom Nehl Truck Co.
Jacksonville
FL
David
Bryant
Houston Freightliner
Houston
TX
Dominic
Cappellett
TransChicago Truck Group
Elmhurst
IL
Darryl
Cekalski
Fresno Truck Center
Fresno
CA
Mark
Christie
Freightliner Northwest
Coburg
OR
Mike
Crockett
Doggett Freightliner
Converse
TX
Amir
Delvarani
Los Angeles Freightliner
Whittier
CA
Jerry
Dewall
Freightliner of Grand Rapids
Wyoming
MI
Ken
Dunnam
Premier Truck Group
Dallas
TX
Kenton
Good
Freightliner of Harrisburg
Harrisburg
PA
Dave
Holzwarth
Tracey Road Equipment
East Syracuse
NY
Truman
Ingram
Four Star Freightliner
Montgomery
AL
Kermit
Jones
Excel Truck Group
Roanoke
VA
David
Klockow
Truck Centers, Inc.
South Bend
IN
Steve
Landis
Doggett Freightliner
Converse
TX
Eric
Lott
Freightliner of Idaho
Jerome
ID
Stan
Lowrey
Fresno Truck Center
Fresno
CA
Blake
MacPherson
Team Truck Centres
Windsor
ON
Michael
McCarthy
Houston Freightliner
Houston
TX
Kurt
Ranfranz
Los Angeles Freightliner
Fontana
CA
Kevin
Ryder
North Jersey Truck Center
Saddlebrook
NJ
Cliff
Scoresby
Freightliner of Idaho
Jerome
ID
Vic
Singh
Sacramento Truck Center
Sacramento
CA
Mark
Sorensen
Los Angeles Freightliner
Fontana
CA
Joe
Switzer
Truck Centers, Inc.
Troy
IL
Joseph
Tarasiewicz
Westchester Freightliner
Yonkers
NY
Trevor
Yates
Truck Centers, Inc.
Troy
IL
Sales Managers Trip Winners
Todd
Albanese
Los Angeles Freightliner
Whittier
CA
Mark
Burton
Freightliner of Utah
Salt Lake City
UT
Shawn
Fishman
Campbell Freightliner
Monroe Township
NJ
Peter
Gunderson
Houston Freightliner
Houston
TX
Lee
Howard
Fresno Truck Center
Fresno
CA
Tim
Simon
Doggett Freightliner
Converse
TX
Mike
Yates
Truck Centers, Inc.
Troy
IL