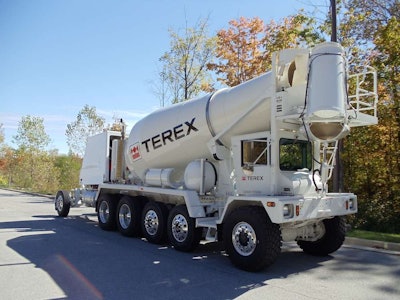 Along with a report of a 10-percent decrease in net sales for the second quarter, Terex released its 2016 outlook, updated based on its new, more streamlined corporate structure following the sale of two of the company's equipment segments.
Terex announced net sales of $1.3 billion for Q2 and a 44-percent increase in profit to $110 million. However, when excluding a $67.7 million benefit related to the release of certain tax valuation allowances, after-tax charges of $19.4 million from restructuring and $8.9 million in after-tax charges related to merger and divestiture activities, profit fell 8 percent from Q2 2015 to $70.2 million.
In May Terex announced the sale of its Material Handling & Port Solutions business to Finnish manufacturer Konecranes. Following what appeared to a be done deal last fall to merge with Konecranes, Terex officially walked away from the merger after receiving an all-cash, $31-per-share offer from Chinese manufacturer Zoomlion.
However, before it dropped talks with Konecranes, Terex sold its Material Handling & Port Solutions (MHPS) to the Finnish OEM for $1.3 billion. And though the MHPS deal struck with Konecranes allowed for Terex to cancel the transaction by May 31, the potential absence of that segment threw a wrench into the Zoomlion talks that was insurmountable for the two companies.
The MHPS sale to Konecranes is expected to close early next year.
Then in June Terex announced the sale of its compact construction equipment segment to Yanmar. The $60 million cash deal is expected to close later this year.
The moves condense Terex's corporate structure from five segments to three: Aerial Work Platforms, Cranes and Materials Processing. John L. Garrison, Terex president and CEO, said in a statement the restructuring and cost reduction will allow his company to be "more focused."
"We continued to face challenging markets in the second quarter," Garrison said in a statement. "We remain focused on what we can control. The steps we took earlier in the year to reduce SG&A helped offset some of the impact of soft markets and competitive pricing, but more is needed. In the second quarter, we took additional steps to simplify our manufacturing footprint and lower our cost base. After the sale of MHPS, Terex will be a smaller company. We are committed to reducing our cost structure accordingly."
Garrison said Terex has seen lower demand in North America impact sales for both its AWP and Cranes segments and was too much for improved AWP sales in Europe and parts of Asia to offset.
AWP sales fell 14 percent to $594 million with profit down 12 percent to $72.5 million. Crane sales fell 16 percent to $357 million with profit down 13 percent to $13 million. Materials Processing was the lone segment to see growth during the quarter with sales up 3 percent to $256 million and profit up 11 percent to $29 million.
Looking forward, Terex expects to end the year with sales between $4.3 billion and $4.5 billion with earnings between $0.85 and $1.15 per share. Garrison saids this outlook "reflects the removal of MHPS earnings from continuing operations and the impact of unabsorbed corporate management costs, but does not reflect any of the benefits of the sale of MHPS which will be realized upon completion of the sale."