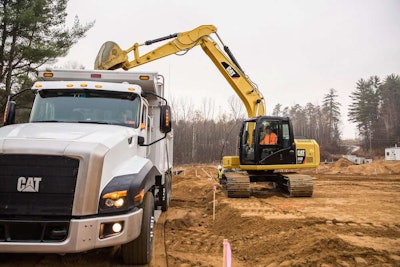 In the face of slumping demand, Canadian Caterpillar dealer Finning International Inc. has announced it will make significant workforce reductions to cut costs.

Finning will cut approximately 1,100 employees—8 percent of its workforce. The company says by the end of 2015 it will have reduced its workforce by 13 percent or 1,900 employees. Since mid-2013 Finning's workforce has shrunk by 2,500 employees.
The company, which operates dealerships in Canada, the UK and South America, made the announcement in reporting its third quarter earnings. Sales were down 10 percent over 3Q 2014 to $1.5 billion Canadian dollars while net income fell 42 percent to $33 million.
"We also continued to restructure our Canadian branch network, effectively reducing our facility footprint by over 20 percent since the beginning of the year, to optimize the utilization of our assets throughout the cycle," Finning president and CEO Scott Thomson said in a statement. "While these are difficult decisions, we believe we are taking the right path to adjust our business to market realities and ensure financial strength, while simultaneously positioning Finning to deliver customer service more effectively and efficiently over the long-term."
Given the widespread workforce reductions and facility consolidations Caterpillar is in the process of implementing, Finning's struggles come as no surprise.
In September, Cat announced that it would be cutting as many as 10,000 workers by 2018 as part of a plan to reduce costs by $1.5 billion in the face of continued low demand for its equipment, especially mining equipment. Lower prices for oil have only compounded matters for the company leading to a lack of demand for equipment from the energy sector.
Cat announced 2,100 of its white collar employees would be taking early retirement packages and has already notified scores of workers at several more facilities of termination.