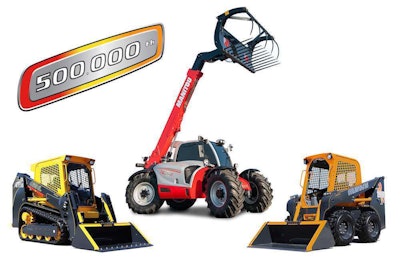 Manitou group manufactures its 500,000th machine
Manitou Group has manufactured its milestone 500,000th machine. Manitou Americas will announce the celebration at various summer trade shows; Empire Farm Days in Seneca Falls, NY; Ag Progress Days in Pennsylvania Furnace, PA; and Wisconsin Farm Tech Days in Sun Prairie, Wisconsin.
They will travel from Wisconsin to Europe, debuting at Agritechnica in Hanover, Germany. For the occasion, the "500,001" and "500,002" customized machines will be on display. They have both been painted with a "reverse" color scheme in honor of this half-million milestone.
Midwest Equipment sales expands operations
Midwest Equipment Sales is relocating the company's primary facility in Ohio to a new 193,700 square foot facility on the West side of Columbus.
The new expansion, along with the company's two additional warehouses located in Dallas and Seattle, will result in faster fill rates for customers and better pricing as a result of the company's ability to acquire inventory in greater volume. The warehouse will be fully operational by August 1st.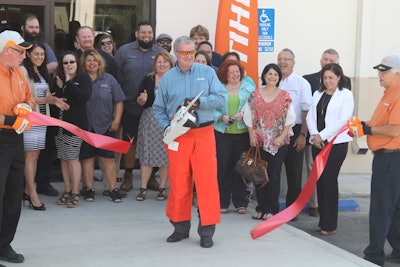 Stihl cuts the ribbon at new facility
Pacific Stihl, a division of Stihl, hosted a building dedication and ribbon cutting ceremony to commemorate the move to the new company-owned facility. This new facility almost triples the square footage available to Pacific Stihl to approximately 140,000 square feet on eight acres and more than doubles its dock doors from eight to 18.
This enables Stihl to continue same day fulfillment of dealer orders. This is the second expansion at Pacific Stihl in five years. A brief presentation about Stihl history and company philosophy was followed by a facility tour led by Ted Kujawski, sales manager at the ribbon cutting.
Franklin Equipment opens first Indiana location in Indianapolis
Franklin Equipment announced the opening of their new location in Indianapolis, Indiana. Franklin Equipment offers a large inventory of rental equipment along with retail sales of both new and used construction equipment. The new location will also offer parts and certified technicians to service any equipment brand.
Nortrax announces new technology strategy
Nortrax announced a new technology strategy and positions to better serve their construction, forestry and mining customers who are faced with increasingly sophisticated machines, tighter profit margins, and a growing reliance on technological expertise. Chris Holmes, Nortrax VP Product Support, explained there will be multiple components to the Nortrax plan which will be implemented in three phases.
Phase one is the creation of the Machine Monitoring Specialists positions who will reduce, or in some cases, eliminate downtime events by remotely monitoring and connecting with machines hundreds of miles away. Phase two is the Product Support Technology Representative Positions. This will ensure highly trained technology specialists in the field can better support customers. Phase three is the creation of the Customer Support Center.
Calls placed to a Nortrax branch with all phone lines full will now be directed to a Customer Support Center staffed by Certified Parts Advisors.
Towmaster donates trailer to the Minnesota Air National Guard Museum
Towmaster, manufacturer of construction equipment trailers, truck bodies and truck equipment, donated a custom built single-axle trailer to the Minnesota Air National Guard Museum. This trailer will be further equipped with a P-51 Mustang and F-4 Phantom cockpit and used as a traveling display at air shows and special events.
Towmaster founder, Harlan Palm, served in the U.S. Navy and says he has always been interested in airplanes. He worked with Jerry Schultz on the trailer and then turned it over to the Towmaster team.
JCB dealer network expands into western Canada
Noble JCB, a new JCB dealer headquartered in Olds, Alberta, Canada, will offer a variety of both new and used agricultural equipment to customers in Western Canada. Noble Equipment first began as the first Krone hay and forage technology dealer in western Canada. Today, Noble Equipment offers a variety of agricultural equipment for dairy, livestock, poultry, hay and forage farmers.
NRMCA introduces new series
The National Ready Mixed Concrete Association (NRMCA) introduced its new Specification in Practice (SIP) series. This series was developed by NRMCA's Research Engineering and Standards Committee. The topics address commonly found, high priority issues that impact the ability to produce concrete mixtures that are sustainable and attain the intended performance. The SIPs are available online and are also published in ACI's Concrete International magazine.
J.F. Keily Construction celebrates safety record
J.F. Kiely Construction, located in Long Branch, New Jersey, says they spend thousands of hours annually to educate its employees on the importance of working safely. They reported a record low Experience Modification Rating (EMR) of 0.592 from the New Jersey Compensation Rating and Inspection Bureau for its efforts. The EMR is a term used in the American Insurance Business and more specifically in workers' compensation insurance.
Double Coin North America announces launch of redesigned website
Double Coin and CMA launched a new, redesigned website at doublecointires.com. The new website is built on the latest innovative web technology and provides an improved user experience.
The website is optimized for various forms of technology and allows users to navigate more efficiently. Visitors to the website can search for all Double Coin tires by application, classification or by model. The new website will be updated regularly with the latest news, product specifications, trade shows and other Double Coin information.
Lincoln Electric acquires Rimrock Holdings Corporation
Lincoln Electric announced that it has acquired Rimrock Holdings Corporation, a privately held manufacturer of industrial automation products and robotic systems with two divisions, Wolf Robotics and Rimrock Corporation.
Wolf Robotics integrates robotic welding and cutting systems for heavy fabrication. Rimrock Corporation designs and manufacturers automated spray systems and turnkey robotic systems for the die casting, foundry and forging markets.
CCAI awards 2015 scholarships
The Chemical Coaters Association International has named this year's scholarship recipients. For the past several years, CCAI has awarded scholarship money from the CCAI matt Heuertz Scholarship program to students at North Dakota State University who major in Coatings and Polymeric Materials.
This year the National CCAI Board expanded the program to include all students in programs (technical schools, high school seniors and college students) from around the country. The 2015 scholarship winners were announced at the recent CCAI 2015 Annual Meeting in Delray Beach, FL. Three students received a scholarship of $1,500. The CCAI Wisconsin Chapter also offers additional scholarships that provide further educational support to those who qualify. Seven students were awarded these scholarships worth various amounts.
Midwest Equipment Sales expands operations
Midwest Equipment Sales (MWE) is relocating the company's primary facility in Ohio to a new 193,700 square foot facility on the west side of Columbus. This new facility will allow MWE to expand its aftermarket tracks, tires and undercarriage parts inventory to meet their needs. The MWE warehouse will be fully operational by August 1st, 2015.
Skyjack names new vice president of sales
Skyjack appointed Steve Headden as the new vice president of sales of used and reconditioned equipment. This is a new position created to help facilitate sales by unloading used equipment from dealers, allowing them to upgrade their fleets with the newest Skyjack machines. Headden has previously held a similar role at a competitor company for over three years.
Kobelco Construction Machinery USA appoints dealer in Illinois
Kobelco Construction Machinery USA added Blue Ridge Tractor to its dealer network. Blue Ridge Tractor will represent Kobelco's full line of excavators and cover territory from the Southern counties of Illinois to the western most counties of Kentucky.
The staff of Blue Ridge Tractor will be working closely with Kobelco to gain the required sales and product support training to deliver on Kobelco's promise of customer satisfaction. Blue Ridge Tractor will provide professional sales and service support on all Kobelco excavators from their Benton, Illinois, location.
KBR celebrates safety milestone
KBR surpassed three million work hours with a Days Away from Work incident at the Dyno Nobel ammonia plant construction site in Waggaman, Louisiana. The logistical and schedule challenges associated with this particular project make it a significant milestone demonstrating commitment to Zero Harm to people, property and the environment, says the company.
Every new KBR employee receives training on the Zero Harm safety culture which emphasizes the importance of an incident-free work environment and peer to peer intervention is embraced across the organization for all safety related matters. At the Dyno Nobel site, KBR's commitment to Zero Harm is reinforced with daily and weekly site meetings, toolbox safety meetings and award recognition for its employees.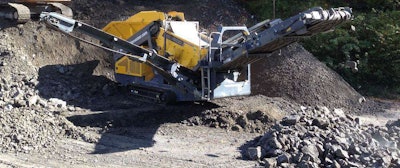 Groff Tractor New Jersey now offers Rubble Master crushers
Groff Tractor New Jersey entered into an agreement with Rubble Master to sell its full line of compact crushing and screening equipment. The company is now authorized to distribute the Rubble Master line in Delaware, Maryland, New Jersey, New York, Eastern Pennsylvania and Virginia.

Europlatform looks at securing the future in access rentals
The Europlatform access rental conference will be held on October 7, 2015 at the Copenhagen Admiral Hotel in Copenhagen, Denmark. This year's theme is "Securing the Future." Europlatform is a one-day conference targeted at senior and middle managers of rental companies with access fleets. The conference will be held in English. It will be preceded by an evening networking reception on October 6 at the Carlsberg Museum.
H&E opens new store in Freeport, Texas
H&E Equipment Services opened a new store in Freeport, Texas, joining 14 other full-service H&E operators in Texas and 71 stores nationwide. The new store will provide full-service coverage to its customers in the coastal area from Port Lavaca to Galveston.
The recently remodeled facility is 13,000 square feet and sits on two acres with a full yard area, offices, parts warehouse and four-bay repair shop. The facility is capable of repairing a variety of general industrial and construction equipment. In addition to equipment rentals, the facility provides new and used equipment sales, in-shop and mobile service, parts inventory, training and other services.
Stephenson Equipment hires new territory rep
Stephenson Equipment hired Stacie Prest as the exclusive JCB product rep for northeast Pennsylvania. She will work to bring the features and benefits of the JCB line of construction equipment to the territory. Prest has been working in the equipment industry since 1995 and most recently worked as a Bobcat Specialist for Highway Equipment and Supply. [PHOTO: Stacie-Prest.jpg]
Hertz Equipment Rental appoints vice president
Carlo Cavecchi joined Hertz Equipment Rental Corporation (HERC) as Vice President, Specialty Rental Group. Cavecchi will lead HERC's current specialty business segments, including Pump, Energy Services, HVAC and Industrial Small Tools. He previously served as the Chief Executive Officer of Ally Onsite, a specialized equipment and on-site services provider to the emergency restoration and oil field industries.
Mack Truck dealer TransEdge celebrates 25 years
TransEdge Truck Centers, one of the largest Mack dealers in the Northeast, will celebrate 25 years of operation this month. The celebration will take place on August 25 with an open house at its flagship location in Allentown, Pennsylvania. Customers can test drive a Mack Pinnacle day cab and sleeper and a Mack Granite tri-axle dump truck. Current Mack trucks will be on display along with several antique models.
A representative from the Pennsylvania Department of Transportation will provide safety training covering the essentials of passing safety inspections and how to appeal a violation. Visitors will also be able to tour the facility. TransEgde opened in 1990 when current owners, Bob and Judy Dwyer, along with three other partners, purchased the company-owned Mack dealership in Allentown.
Rugby Manufacturing achieves ISO certification
Rugby Manufacturing achieved ISO 9001:2008 certification. ISO 9001:2008 is a Quality Management certification program and certifies companies in over 170 countries. Rugby Manufacturing has been certified with a Quality Management system for the design, manufacture, delivery and servicing of dump bodies, landscape bodies, platform bodies and truck hoists.
NRMCA announces winners of 2015 Commitment to Environmental Excellence Awards
The National Ready Mixed Concrete Association (NRMCA) announced the winners of the 2105 NRMCA Commitment to Environmental Excellence Awards. The program offers NRMCA Producer members national recognition for outstanding contributions to protecting the environment and maintaining sound environmental management practices in their operations.
Entries were reviewed by a panel of judges based on a written narrative covering 11 evaluation criteria along with the photographs. This year's program provides awards in four categories based on a plant's production volume. Eligible plants include NRMCA Producer members located in the U.S., its territories or Canada. The honored plants are listed here.