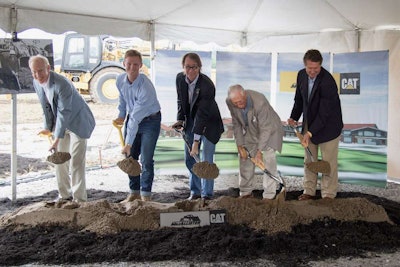 MacAllister Machinery breaks ground for new headquarters
Indiana's Caterpillar equipment dealer, MacAllister Machinery, celebrated a groundbreaking for its new headquarters on the Southeast side of Indianapolis.
The 133-acre tract will house MacAllister's new 345,000 square-foot headquarters and will allow the company to consolidate its heavy equipment shops, parts warehouse, light equipment sales and service and all of its office and administrative functions.
The new site is inside the intersection of I-465 and I-74E.
MacAllister Machinery celebrated its 70th anniversary this month.
Stihl president to retire
Stihl president Fred Whyte will retire at the end of this year. Whyte has been part of the Stihl group for 44 years and president of the company for 23 years.
While Whyte was president, the company experienced growth and achieved status as the number one selling brand of gasoline-powered handheld equipment in America says the company.
Custom Truck Sales celebrates 50th Anniversary as Kenworth dealership in Canada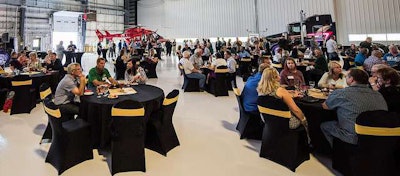 Custom Truck Sales celebrated its 50th anniversary as a Kenworth dealership.
The milestone was celebrated with five events that allowed customers a closer look at Kenworth's T680 and T880 trucks. The events honored Arnold Leach, grandfather of Custom Truck Sales President Brent Leach.
Custom Truck Sales is part of the Kenworth dealer network of more than 360 locations throughout Canada and the United States.
Hyundai Heavy Industries rolls out 500,000th construction equipment machine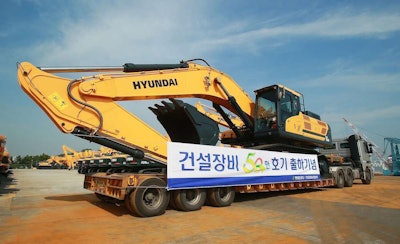 Twenty-eight years after the company produced its first excavator in 1987, Hyundai Heavy Industries has handed over it 500,000th construction equipment to a customer.
Shealy Truck Center celebrates 75 years as a Mack dealer
Shealy Truck Center of Columbia, South Carolina celebrated its 75th anniversary as a Mack dealer with a celebration held at the South Carolina State Museum in Columbia. Guests were welcomed with a restored 1940 Mack Model EG one-ton flatbed truck. This model is from the same year the Shealy dealership began selling Mack models.
The company was originally established in 1932 by James H. Shealy who became a Macks Truck dealer in April 1940.
McKelvy to become President and CEO of Gilbane Building Company
Gilbane Building Company has named Michael McKelvy President and Chief Executive Officer effective January 1, 2016. McKelvy currently serves as President and Chief Operating Officer.
He will succeed present Chairman and Chief Executive Officer Thomas F. Gilabane, Jr., who has been with the company since 1970. Under his leadership, Gilbane implemented a "one company" operating philosophy that maximizes the organization's resources and expertise on projects and business pursuits.
McKelvy's responsibilities will include directing the organization's growth while ensuring profitable operations and maintaining Gilbane's unique culture and commitment to its clients.
Liebherr Construction Equipment names new dealer in northern Texas
Liebherr Construction Equipment named Bane Machinery as a dealer serving North, East, and West Texas.
Under the new agreement, Bane Machinery will handle the promotion, sales and service for the full line of Liebherr earthmoving and material handling equipment in the region.
E-Z Drill Expands manufacturing plant
E-Z Drill has expanded their Perry, Oklahoma manufacturing plant to increase its production capacity by adding more than 7,500 square feet of floor space to its 36,355 square-foot factory. The expansion will house an office and new a shipping and receiving area, as well as make room for E-Z Drill's growing welding department.
In addition to the shop expansion, E-Z Drill is incorporating a new inventory system to enhance the manufacturing process by minimizing waste and inventory costs. This results in a more environmentally friendly company and contributes toward a more efficient operation.
The project began in June and is projected for completion by early Fall 2015.
Western Waterproofing Company celebrates 100th anniversary
Western Waterproofing Company celebrated its 100th anniversary with a cocktail reception and gala at the historic St. Louis Union Station in Downtown St. Louis.
To mark the occasion, Western unveiled a new name, logo, and tagline. The Western Construction Group and its more than 30 branches and member companies doing business under their original name (Western Waterproofing, Brisk Waterproofing, Peoria Roofing, Western Facades and Harry S. Peterson), will be known as Western Specialty Contractors-Confidence Through Performance.
Keen Utility joins forces with non-profits
Keen Utility has formed a new partnership with The Wildness Society and 21st Century Conservation Service Corps to help fund "Project Build," a program designed to promote the preservation of our natural land and the efforts of the conservation corps across the country.
Project Build will take place in a variety of cities from Los Angeles to New York and will include projects such as urban farm construction and building trails.
Together with The Wilderness Society and 21st century Conservation Service Corps, Keen Utility expects to help protect approximately 500,000 acres of land and 100 miles of rivers while contributing about 1,000 hours of volunteer time from Keen employees.
Keen has also supplied 300 corps members with footwear to ensure safety and comfort on site.
Yokohama Tire to host baseball sweepstakes
Yokohama Tire has teamed up with the New York Yankees- to bring fans a "VIP Experience."
From now until July 31, Yokohama will be running an online sweepstakes for fans and at the end, one lucky winner and three guests will get to go to Yankees Stadium to watch the 27-time World Champion Yankees take on the Chicago White Sox on September 26.
The VIP Experience prize package include roundtrip airfare to New York and hotel accommodations for the winner and guests. The winner will be picked on August 3.
Fans can enter by visiting www.yankees.com/ytcvip or texting YTC2WIN to 89269.
Skyjack's 30 for 30 Partners Campaign celebrates its first Asian project
Skyjack division has completed its first 30 for 30 Partners project in Asia, assisting the Muhammadiyah Welfare Home in Singapore.
MWH is a humanitarian, nonprofit organization whose mission is to guide, nurture, and empower young men whose lives have been disrupted through bereavement or abuse or those who are no longer able to operate in a normal Singapore school system.
Skyjack, working with its Singaporean dealer JPN Trading, supplied an SJIII 4632 electric scissor lift to help with preparations. Skyjack also made a donation to MWH, presenting a check for $2,100 to the manager of Corporate Communications and Resource Unit at MWH.
The 30 for 30 Partners campaign is part of the Skyjack's 30th anniversary celebration and will see Skyjack support 30 worthwhile causes over the course of 2015.
John Vogel running for ARA Associate Member Director
Chicago Pneumatic Construction Equipment Vice President of Sales, John Vogel, is running for the American Rental Association Associate Member Director. The position hold the responsibility of representing associate members perspectives and interests as the related to the ARA.
Vogel, who is responsible for the Chicago Pneumatic brand and support team, has more than 35 years of experience with the renal industry, including activity in the United States, Canadian, and Central American markets.
Selected by his peers to run for the ARA Associate Member Director Position, Vogel will run opposite of Sam Humphrey of Mi-T-M. If elected, the two-year volunteer position would begin in February 2016.
Ballots will be mailed to ARA general members and associate members in mid-July. The election outcome will be announced via Rental Pulse in early September.
BFGoodrich Tires and TEN crown Nation's Top Amateur Performance Driver
BFGoodrich Tires and TEN: The Enthusiast Network's Motor Trend and Fourwheeler, crowned Mike Iler, from Redlands, California, the nation's top amateur performance driver after a two-day competition testing drivers with on-and off-road driving challenges.
The competition featured 56 amateur drivers who attempted to prove they were "driver enough" with two high-horsepower vehicles- the 2015 Ford Mustang GT and a 2014 Ford Raptor. Both vehicles were equipped with BFGoodrich Tires.
Drivers were asked to perform on a customized road course as well as a rough and demanding off-road track. The courses challenged participants and tested the drivers' skills behind the wheel.
The Driver Enough Challenge champion was determined by the fastest combined lap times from both on-and off-road courses.
JCB Mudfest raises $100,000 for the Lady Bamford Center
JCB hosted its first-ever "Mudfest" at the company's North American headquarters in Savannah, Georgia.
Mudfest combined JCB's Mud Run and Dig the Ride races into one big event. Mudfest is a 100-percent-charitable event. JCB equipment was used to build courses across the company's campus spread over 1,000 acres of rugged Georgia terrain.
Backhoes, skid steers, compact track loaders, and excavators created trails, obstacles, and other surprises that guaranteed an exciting time for all participants, whether they were on foot or on a bike. Participants' endurance and their willingness to get muddy was tested.
JCB Mudfest is now part of the all new Savannah Mud Run Charity to series to benefit local children/youth non-profit organizations in Chatam County and surrounding areas. Proceeds from the Mudfest benefit The Lady Bamford Center for Early Childhood Development which provides education and social skills development to children.
Subsite Electronics unveils new website
Subsite Electronics, a Charles Machine Works company, unveiled its new mobile-friendly website. The site provides utility, pipeline, telecom and other underground construction professionals with easy access to information regarding Subsite's selection of Undergound Awareness products for enhanced jobsite safety and productivity.
The new responsive site is available via desktop, laptop, tablets and mobile devices, giving users convenient and quick access to information, whether they're on the jobsite or at the office.
The site also includes time-saving software updates for Subsite Electronics products. In addition, users can easily access a Find a Dealer tool to locate the nearest Ditch Witch dealership, from which Subsite products are sold.
Southeastern Equipment Co. gains new sales representative
Southeastern Equipment Co. announced that Dana Moore has joined the company as a sales representative for the Brunswick, Ohio branch.
His primary responsibility is selling the equipment lines that the branch represents, which include CASE, Kobelco, and Gradall.
Prior to joining Southeastern, Moore had over 10 years of experience working as a sales representative for two companies specializing in construction equipment rentals.
Peterbilt receives three Frost and Sullivan Manufacturing Leadership Awards
Peterbilt Motors Company received three Manufacturing Leadership Awards from Frost & Sullivan's Manufacturing Leadership Council. These awards recognize demonstrated excellence in the areas of employee leadership development, manufacturing innovation, and operational efficiency.
Peterbilt also received three Manufacturing Leadership Awards in 2014.
David Pearson celebrates 30 year anniversary at Takeuchi
Takeuchi-US awarded inside sales manager David Pearson with a plaque to honor his 30th year with the company.
David started out part-time with Takeuchi while still in high school. He transitioned to full-time working with machine inventory and parts shipping in 1985. His career path evolved until his current position as inside sales manager.
Ox Bodies announces new general manager
Ox Bodies announced that Ray Salley has assumed the role of General Manager.
Salley previously worked with another Truck Bodies and Equipment International company, Rugby Manufacturing, where he served as General Manager.
BigRentz names new Vice President of Operations
BigRentz has named Franklin McDonald as Vice President of Operations. McDonald has experience in operations and sales management.
McDonald previously worked with Hertz Equipment Rental Corporation.
Yokohama Tire announces new Director of Technical Service
Yokohama Tire Corporation has named Tom Kenny director of technical service. Kenny, a 33-year tire industry veteran, will take over leadership assignments in all aspects of technical support.
Dan Guiney retired after 43 years in the business, the last 13 with Yokohama.
Donaldson acquires dust collection business, names new operations VP
Donaldson has acquired IFIL USA, a manufacturer of pleated bag filters for industrial dust collection.
The agreement with IFL USA is expected to contribute approximately $6 million to $8 million of revenue. IFL USA and its employees will continue to function as an independent company.
The company has also made changes to its leadership, as Vice President of Global Operations, Joseph E. Lehman will retire on August 1, 2015.
Lehman joined Donaldson in 1984 as a Financial Analyst and then held a number of management roles in Finance, Operations, Information Technology and business unit management. He was promoted to Vice President of Global Operations in 2010.
Richard Lewis will take Lehman's place. Lewis is currently General Manager of Operations.
Prior to joining Donaldson, Lewis held operations and quality management positions with Ventra Corporation and Seleco.