JLG acquires UK-based Power Towers
JLG Industries has acquired Power Towers, a low level access equipment manufacturer based in Leicester, UK.
Power Towers, founded in 2007, offers 7 self-propelled and push around lift models, some rated for outdoor use. The company employs 30 people, all of whom have been retained through the acquisition.
With the acquisition, JLG expands its low level access product line, which previously included push around and self propelled mast lifts, as well as the LiftPod line of personal portable lifts.
[PHOTO: JLG-Power-Towers]
Hyundai appoints national sales manager
Hyundai Construction Equipment Americas has named Tom Owen as national sales manager. Responsible for both the inside and outside sales teams for Hyundai's construction equipment products, Owen will be based at the company's North American headquarters in Norcross, Georgia.
Owen has previously held key sales, marketing and dealer development positions for global OEMS, and has extensive experience in sales and distribution management in the heavy equipment industry.
[PHOTO: Tom Owen_Natl Sales Mgr_Hyundai CE]
Yokohama to host LPGA tourney
For the second consecutive year, Yokohama Tire is sponsoring the Yokohama Tire LPGA Classic. Held August 27-30 in Prattville, Alabama, the even is part of Yokohama's three-year sponsorship deal with the Ladies Professional Golf Association.
The tournament will benefit Yokohama's cause marketing partner, KaBoom!, a national nonprofit dedicated to ensuring children have balanced and active play. Proceeds from the 2014 tournament were used to help build a new playground for a community in Southern California.
The 2015 tournament, which is expected to include defending champion Mi Jung Hur, will be held on the Senator Course at Capitol Hill along the Robert Trent Jones Golf Trail.
Atlas Copco names new vice president of sales
Atlas Copco has named company veteran Matt Cadnum as vice president of sales for its rental channel, where his responsibilities will include growing the breadth of product and services for rental centers across the United States.
A Cleveland native, Cadnum has more than 20 years of experience in the construction equipment industry that will enable him to focus on key issues within the rental industry, such as cost of ownership and fleet utilization.
[PHOTO: AtlasCopco_Cadnum.jpg]
GSSI opens new headquarters in Nashua, New Hampshire
GSSI, a manufacturer of ground penetrating radar equipment, has completed the company's new headquarters in Nashua, New Hampshire. The 70,000-square-foot facility more than doubles the amount of space in the company's former headquarters, located in Salem, New Hampshire.
Located in a renovated building in an Economic Revitalization Zone, the facility includes an open R&D environment with flexible laboratory space. A state-of-the-art training and test facility includes an indoor test area with a large underground pit that emulates sub-surface utilities and geophysical features.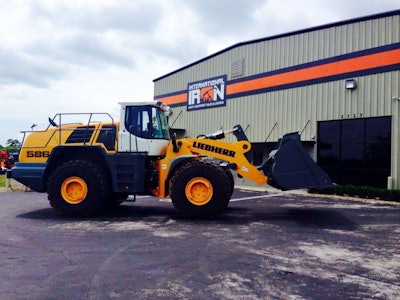 Liebherr adds International Iron to dealer lineup
International Iron, based in Apopka, Florida, is the newest dealer for the full line of Liebherr earthmoving and material handling equipment.
Offering a range of new and used equipment as well as a diverse rental fleet, International Iron will provide sales, service, rental, parts and warranty services for Liebherr equipment in central and north Florida.
Kobelco Construction Machinery USA expands team
Kobelco Construction Machinery USA has added two Kobelco Japan employees to the company's staff of experts. Yutaka Toji and Jun Shigematsu are relocating from Japan to taken on roles in service and training.
Toji and Shigematsu will assist Kobelco in growing and developing service systems, implementing proper training and maximizing customer operational performance, as well as acting as a liaison between Kobelco USA and Kobelco Japan.
Additionally, Kobelco USA has expanded its sales team with the inclusion of Dan Collins, a new national sales manager responsible for managing a team of district business managers and network development.
MMFX adds Southwestern regional sales manager
Douglas C. Johns has joined MMFX Steel Corporation as the company's regional sales manager for the Southwestern United States. Responsible for driving sales and expanding use of MMFX products, Johns' region will include California, Nevada, Utah and Arizona.
Previously, Johns served as West Coast business development manager for Gerdau Ameristeel North America, and has also held positions with Centurion Asset Protection Group and Northrop Grumman.
[PHOTO: Doug Johns grey bg.jpg]
Acme Lift, a privately owned wholesale rental company based in Mesa, Arizona, has named Brian Stanley the company's vice president of business development for the eastern United States. Stanley will play a key role in charting the company's strategic direction.
Stanley had previously worked for the Jack Doheny Companies, where he had successfully launched the Bronto-Skylift line of ultra-tall truck mounted aerial lifts, and had been director of specialty equipment and strategic accounts.
[PHOTO: Brian Stanley.jpg]
Kenworth relocates, remodels dealerships
Performance Truck-Beaumont, a full-service Kenworth dealership, has relocated to a new 60,000-square-foot facility approximately three miles east of its previous location, one block off U.S. Interstate 10.
The dealership, located at 3755 Hollywood Street, has 30 service bays, a 10,000-square-foot parts department, 5,000 square feet of warehouse space and 5,000 square feet of parts display.
Performance Kenworth has also remodeled their full-service Houston dealership, located at 6855 North Loop 610 East. The remodel increased parts warehouse and showroom floor space, increased front counter stations and includes a will-call window for parts pickup.
Performance Truck also operates dealerships in Austin (Buda), Baytown, Bryan, Cleveland, Jasper, Lufkin, Rosenberg and Victoria.
Kenworth of Cincinnati has also relocated to a new facility, more than doubling the dealership's previous size. The 45,000-square-foot dealership is located at 65 Partnership Way in Sharonville, near the I-275 and I-75 dealership.
The new location has space for 11 drive-through service bays, with the capacity to offer repair and service for up to 22 trucks. The dealership also has a body shop, wash bay, paint booth and drivers way. Also included is a 10,500-square-foot parts department with 7,500 square feet of warehouse space and 3,000 square feet of parts display.
[PHOTOS: Beaumont or Houston]
Pettibone names new dealer for Canada, Washington
Pettibone/Traverse Lift has added Leavitt Machinery to the company's dealer network. Leavitt will carry Pettibone equipment at the dealer's locations in Saskatchewan, Alberta, and British Columbia in Canada, and Washington in the United States.
The full-service dealerships provide new and used equipment sales, emergency repairs and planned maintenance, long- and short-term equipment rentals, operator safety training and parts support.
The company will promote Pettibone's Cary-Lift product line for pipe handling in oil and gas applications, and for tire handling in mines and quarries. Leavitt will also carry Pettibone's Extendo and Traverse telehandler lines.
Trimble establishes Sitech dealer in Wyoming
Trimble has added a Wyoming location to its network of Sitech technology dealers, serving all but the counties adjacent to Montana and Utah.
Representing Trimble and Caterpillar machine control systems, the Sitech dealer will also represent Trimble's portfolio of Connected Site solutions, which includes site positioning systems, construction asset management services, software and wireless and Internet-based site communications infrastructure.
H&E opens new South Carolina location
H&E Equipment Services, a supplier of construction, industrial, mining, manufacturing and material handling equipment with more than 70 locations, has opened a new store in Summerville, South Carolina.
Located at 1115 Newton Way, the new store will provide full-service coverage to H&E customers in the eastern area of the state. The 16,000-squre-foot facility sites on 3 1/2 acres and has a yard area, parts warehouse and 8-bay repair shop.
The branch specializes in equipment from Atlas Copco, BOMAG, Doosan, Gehl, Genie, JLG, Multiquip, Okada, Skyjack, Skytrak, Takeuchi, Wacker Neuson, Yanmar and more.
JCB adds New Mexico, western Texas dealer
JCB has added ProCon JCB to the company's North American dealer network, providing sales, rental and support to customers in New Mexico and western Texas.
ProCon JCB will incorporate JCB's overall look and branding within their dealership, and will offer a range of JCB equipment. The dealership will provide full financing and customer support, as well as a 24-hour call center.