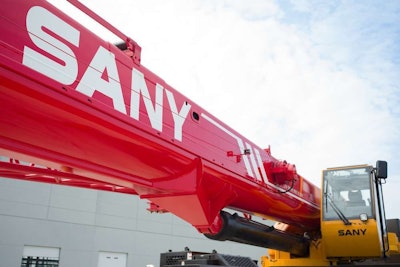 Sany recently opened up its North American headquarters in Peachtree City, Georgia to customers and dealers in order to allow them to meet its newest equipment in person.
Owners and dealers from the U.S., Mexico and Canada attended the open house where they were given the chance to operate the new SCC8150 crawler crane and the SRC885 rough-terrain crane. These were the first shipments the North American HQ received. Sany also offered walkarounds of the equipment with sales and service technicians.
In addition to the SCC8150 and the SRC885, the 330-ton SCC830 crawler crane and the SRC865XL rough terrain crane were on display along with a few Sany excavators.
It's an interesting business tactic for Sany, a Chinese equipment manufacturer eager to establish a stronger foothold in North America, with the eventual goal of more seriously competing here with Caterpillar and Japanese manufacturer Komatsu.
"We are in growth mode, so these events help us show customers, dealers and prospective dealers the commitment SANY has to their local markets," Eric Teague, vice president of earthmoving for SANY America, said in a prepared statement. "Open houses give them a chance to see our world-class headquarters and factory, and to see the machines up close."
Recently, Sany's ambitions have drawn the ire of competitor Manitowoc who is suing the company for allegedly infringing on crane counterweight patents.
The event appears to have paid off in the short term. All four machines on display were sold and both dealers and owners said they enjoyed the event.