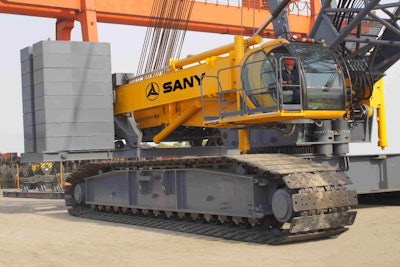 After building a $60 million facility in Atlanta, Sany is still waiting for its U.S. investment to pay off. But it still has high hopes, according to an interesting profile of the company done by the Wall Street Journal.
The WSJ profile describes the loads of extra space in the company's office building and warehouse in Peachtree City, an Atlanta suburb. Sany has 60,000 square feet of office space space there, equating to 700 square feet for each of the only 85 employees working there.
That office space is mostly empty in large part because of all the extra space at Sany's new plant in Lingang, China. The WSJ reports that the 5.9 million-square-foot plant can build about 20,000 excavators each year but has been working at half that rate. Annual Sany sales are at about 80 billion yuan, or $12.86 billion.
It's not a secret that contractors are wary of investing in brands that haven't quite had time to establish themselves due to the fact that resale value could be low.
Still, the company is confident that it can rise from its no. 6 position among equipment makers to dethrone Caterpillar, who yesterday reported sales of $65.9 billion, and no. 2 manufacturer Komatsu. It's already in the mix of leaders in China and Sany chairman Liang Wengen is reported to have said in November he expects the company to reach sales of $47 billion in 10 years.
The full WSJ article is worth a read (paywall) as it explores Sany's dealership options and other methods of increasing exposure here in the U.S.