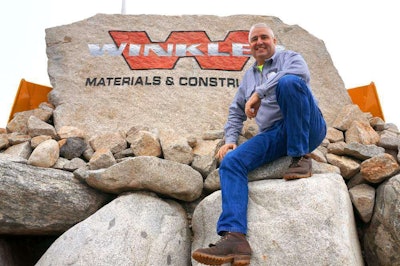 "We love to do anything that involves concrete," says Brian Winkler, 47, president of Wm. Winkler Co., one of 12 finalists in the 2014 Contractor of the Year program. "It's everywhere and it's sustainable, It's a very versatile material."
Concrete has been Wm. Winkler Co.'s material of choice since Brian's grandfather started the firm in Spokane, Washington, in 1919. His grandfather did curb and gutter work, and Brian's father, the oldest of 11 children, joined two brothers in continuing and expanding the firm. After working several years for another contractor, Brian bought the family company from his uncle in 1999.
Brian had a clear career path when he graduated from high school: he would enroll in the U.S. Navy Seabees, and then take that experience, plus all the summers he had worked for the family construction business and go into construction. In the Seabees, he gained the rank of equipment chief petty officer. "The order and discipline I learned there has really helped in business," he says.
Another plus: working in the Spokane area. "This area didn't get the high peaks and valleys of other places, which has really helped," Brian says. Three years ago, the company moved into a 18-acre facility in Newman Lake previously owned by another contractor, renovating it to meet their needs.
Although concrete work — including airports, roads, commercial and industrial development — is what Brian calls the company's "sweet spot," the firm has added several capabilities in the past decade, including grading, excavation, demolition and recycling. During the recession, Wm. Winkler's union crews took on several out of town projects, and continue to work in several states in the Northwest. "We had enough going on in different geographical areas, we did not have to lay off any key people," Brian says. "We have very loyal people and they were willing to pick up and travel. They are critical in helping us be competitive." The $14 to $15 million company employs 150 people during peak summer work.
The large, well-organized shop underlines Brian's equipment philosophy: control your productivity and costs by taking care of your fleet. The company employs an equipment manager and several mechanics and runs two shop shifts that operate from 5:30 a.m. to 9:30 p.m. "I like everything to be clean, organized and ready to go," Brian says. Heavy trucks, pickup trucks and loaders are typically bought new. "Loaders today are so much more agile, fuel efficient and offer greater operator comfort. Making our operators comfortable contributes to morale, and gives us a huge return."
Although he laughs at his continued reliance on a flip phone, Brian equips his leadership with iPads. "They are an efficient way to complete daily job reports, including job photos. All of our safety topics are on our iPads."
Brian also stresses communication: every week his key shop, field and office personnel meet. "That way, the shop knows if a machine is critical to a job, for example. And everyone understands why we track fuel burn per hour per unit."
In the video below, Brian offers a quick take on the advice he'd give to those considering entering construction.
[youtube JjjKaiOwOaY nolink]