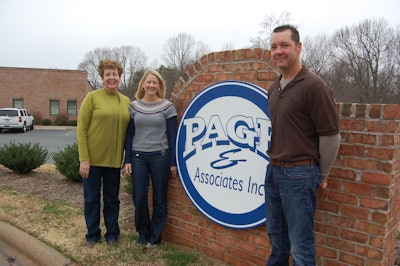 Editor's Note: Jane Page was a finalist for 2012 Contractor of the Year. She and her former husband started Page & Associates in 1979 in Johnson City, Tennessee. The company has 25 employees with annual volume of $3 million to $5 million. The company serves the site development, general construction, utilities and curbing and sidewalks markets.
The entrepreneurial spirit runs deep in the Page family. As a child, Jane Page saw her parents run a clothing store and then a sandwich shop. After her father died, her mother became the first female insurance agent in Winston-Salem, North Carolina. And when Jane got married, she and her husband did it all – from delivering advertising circulars to peeling potatoes for commercial salad makers to maintaining rental properties.
"I knew I had to work hard to get what I wanted and what I wanted was a hearth and home," Jane says. But don't let this grandmother of eight fool you. She's got a core of steel beneath a Southern graciousness, a determination that's been tested in the recent downturn. "We've had to get creative because I've never seen it as bad as this … and we were here in the early 1980s," she says. "Usually, when something's down, of our other businesses is doing OK. This time, everything was down."
When Jane says "everything," she means it, because she's still got her hand in several businesses, including Page & Associates, a construction firm that has its roots in a company she and her former husband started in 1979. In addition to the construction company, she also has residential and commercial property management businesses.
With so much on her plate, Jane is grateful her son Bud and daughter Mary Jane Scott have assumed many of her day-to-day duties, positioning her firm for the next generation.
4 p.m. on a Friday
Throughout the years, Jane's construction firm built houses and commercial buildings and has found a more recent niche in sewer and water municipal and site development jobs. "We do whatever is in front of us," Jane says. "Getting bonding is gigantic and we do get bonded. I think they like our integrity, assertiveness and our stick-to-itiveness. We finish it. If it takes all night, we buy pizzas for everyone and do it. And we rest and laugh later."
Her words are echoed by Rich Baker, public works director for the city of Trinity, North Carolina: "I've called them at 4 pm on a Friday, and they had the whole crew out working. They always respond. If we need something done, they take care of it." Page & Associates has done several jobs for the city, including sewer and water lines and pump stations.
Bud appreciates the low-bid jobs the company has been getting, but does miss the home building side. "Three years ago, we always seemed to have a neighborhood going on, and you just don't see them anymore," he says. "I like the working relationship you have with a home builder. There's not a lot of red tape."
"We love building," says Mary Jane Scott, Jane's daughter and youngest of three children. "We're the kind of people who figure out a way to do it. That's the way we were brought up. We all get along well and we're very open."
Mary Jane concentrates on the office while Bud runs the field. "Construction is engraved in me," he says. "It's all I've ever wanted to do." He then adds with a laugh: "But to be in his business you have to be a hard worker and half crazy. "
Late-model believer
Page & Associates typically uses rental purchase options to keep their fleet fresh. "I'm a firm believer in keeping late model machines," Bud says, "because then you don't have as many problems." While the company has bought outright in the past, the zero percent financing rates in recent years has prompted them to finance.
The largest component of the firm's fleet is mid-size excavators, ranging from a Cat 320 to a 336. Also in the mix are compact excavators, a dozer, compactor and several multi-terrain loaders.
The company limits its rentals to compact excavators and jack hammers. While the firm has three compact excavators, "there will be days where we need four or five of them for just a day or two. I don't want them sitting around."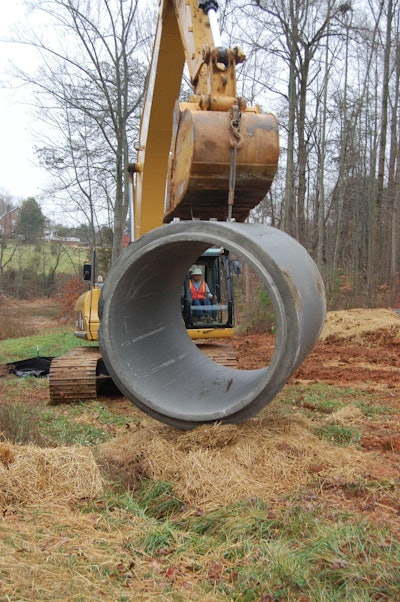 The same is not true for his 24-metric-ton excavators, however. "We need them every day," Bud says. "That's also true for our multi-terrain loaders. We have three of them and they run nonstop. It's the only type of skid steer we have. And we traded in one of our wheeled skid steers for a mini excavator because we've found they're cheaper."
The firm's in-house mechanics were let go when the downturn came, but even back when they were on staff, Bud mainly relied on them to do preventive maintenance and small repairs. "We've always had a low percentage of major repairs and overhauls because of our late-model machines," Bud says. "And with excavating, you need to have the newer machines for safety reasons."
Page & Associates believes in a clean construction site, using a broom tractor every day. "I tell the guys it's like their home so we've got to keep it clean," Bud says. This detailing has lead to repeat jobs, with clients even requesting a particular foreman and crew. "They do a good job of not ignoring any neighborhood issues" that may crop up, says Andy Larrick, project engineer with engineering firm Davis-Martin-Powell & Associates, High Point, North Carolina.
Bud used to run down the road in a Ford 350 but has cut back to a 250. "I pulled a trailer all the time but now I don't, and I don't need a big truck as much." He equips all his pickups with strobe lights – "people can see you and it looks professional."
Old school networking
Jane calls herself "old school," relying on the files of contacts she's networked over the years. "If a call comes in, you call them back, even if you don't have an answer," she says with conviction.
She advises contractors to remain close to their financial institutions, especially when times are tough. "Keep them abreast of your jobs in progress and how well you're doing." She credits her work on the local BB&T Bank board with giving her "an education and an acute awareness of the economic future."
"Jane's a unique lady – she's good at business, but she likes to make a friend as well," says Tom Scott, president, Discca Environmental Services, Greensboro, North Carolina. "If she tells me something's a certain color, I don't have to look to see that it's true. And if there's a bump in the road, she doesn't try to hide it. She steps up."
Jane, 66, is stepping back a bit, though, pleased her company is in what she considers very capable hands. She now takes Fridays off. "It was hard to loosen up at first and let Bud and Mary Jane have so much freedom, but I'm just a phone call away. And I think they can take it and run. But I would always caution them that if money is made, then they need to stockpile it."
"We don't run the business like we used to," Bud comments. Mary Jane adds: "There was too much freedom." And while the two believe in giving people the tools they need to do the job, they also have learned there needs to be controls. But they both agree that recruiting and retaining skilled help is their biggest challenge. "You get your best help through the leaders on your crew talking to a friend who might be a prospect," Bud relates.
The siblings say their hang-tough attitude will serve them well in the future. "In a few years, I do believe the sky is the limit," Bud says. "America's infrastructure is failing, and there will be a high demand for the skills, manpower and knowledge we have. In three years, I think this can be a 100-employee company."