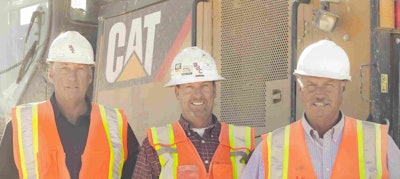 It's a testament to determination that Brown Brothers Construction has survived and thrived in the southern Utah town of Loa, population 600. This year, in addition to being one of Equipment World's Contractor of the Year finalists, Albert, Michael and Ellis Brown are celebrating the 50th year of the business started by their grandfather in 1963.
The company started with one backhoe, installing water lines and putting in basements. It soon graduated to drilling road site preparation when uranium exploration came to the area. Along the way, the company has built reservoirs, parking lots, done site preparation for a number of commercial buildings, and literally built the segment of Utah Highway 24 that runs through Loa.
The recession has prompted them to look further afield, however. The brothers and their crews now commute four hours north to help convert the multi-mile Seep Ridge Road from gravel to asphalt, a project in Uintah County, near Vernal, Utah. "We don't expect our employees to do anything we won't," Ellis says, and so all three spend long hours on the job Monday through Thursday, coming home on Fridays.
Adds Albert: "We push dirt with the rest of them."
Brown Brothers has an 8,000-square-foot well-equipped shop to take care of fleet that includes six scrapers, four articulated trucks, three excavators, two graders, two dozers and four loaders.
In addition, the company hauls a variety of belly dumps, transports and low boys. "We understand when people say 'don't get attached to your equipment,'" Ellis says, "but we still do." Rental, however, has become a "big asset to us in the past two years," he says. The company rents much heavier equipment than most contractors – including track crushers, artics, and even a D10.
The brothers appreciate the good work ethic that seems to be inherent in the rural area surrounding the firm. "We have four father/son teams working for us," says Michael, "not counting those who are in our family." And fourth generation family involvement – including four sons, one daughter and a son-in-law — has the company well positioned for the future.