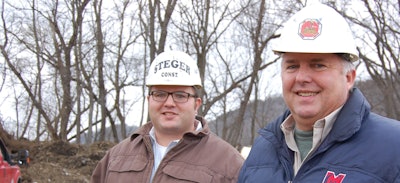 The story of Steger Construction, Dyersville, Iowa, is one of generations.
The family business, one of our 2013 Contractor of the Year finalists, began in 1948 with Herb and Fay Steger, grandfather and uncle of present owner, Jesse Steger. And now Jesse's son, Paul, has joined the firm. As Paul — a University of Northern Iowa construction management grad — put it, "You know it's in your blood when the people you look up to are doing it."
Grading jobs in Northeast Iowa attract a lot of good competitors, Jesse comments. "For some reason, this area of the state has nurtured a lot of contractors who do this work," he says.
And so Steger crews find themselves claiming the state of Iowa — and then some — to get their share of projects. "While we prefer jobs closer to home," Jesse says, "a lot of times that's just not possible."
Growing up in the business, Jesse has seen first hand how equipment has evolved, from wrecking balls to hammers. "Articulated dump trucks have been especially useful here in Iowa with our soft underfoot conditions," Jesse says. "When you had to use scrapers, it was more of an art because you had to get through the mud. Glaciers did some strange things to the Iowa soil. You'll go from sand to mud bogs to limestone in one area. Artics and excavators make our jobs a lot faster."
Another advance that's made a difference is GPS. "Paul talked me into using GPS, and now it's a necessity. It's been the biggest game changer in the past five years."
While they'll definitely take jobs whatever their start date, winter is when Steger Construction concentrates on rehab, rebuilding and hardfacing its fleet. "It gives our people winter work," says Jesse, "and gets us ready for warmer weather, when downtime is a killer."
Jesse and Paul will be joining the other 11 Contractor of the Year finalists March 8-11 at Equipment World's Contractor of the Year event, sponsored by Caterpillar.