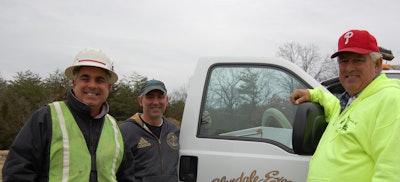 Contractors and great stories are natural duos, proven once again during my time with Glendale Excavating in Vorhees, New Jersey. One of 12 finalists for our 2013 Contractor of the Year award, Glendale is run by three brothers — Thomas, Daniel and Greg Giangiulio — who swap stories with ease.
First there's the tale of Ernie the operator who, using a Cat 950, ran truck loading circles around other operators — on Cat 966s. Then there's the obvious respect they have in their current mechanic, Mike Gonnelli, who has an intuitive ability to fix machines. And they take pride in their construction heritage, and their operating engineer father who served as the backbone of their firm before his retirement several years ago.
"We're third generation operating engineers," says Daniel, or Dany. "We watched our grandfather operate equipment when we were kids, and begged to go to work with our father." Adds Greg with a laugh: "It's not that we had any choice in the matter."
The company has gone through some survival scares and readjustments. "Dad took care of the business end, and we really suffered when he retired," says Thomas, or rather Tommy. "Our ability to work hard has kept us in the game. We were taught you just don't let up." And his advice to those just starting construction? "What you lack in experience, you have to make up with desire. That's the way this business has always been."
But all was not serious. Dany offered this impromptu testimonial of Glendale's Cat 225 excavator — still producing after 16,000 hours.
[youtube 3J029TF6tpg nolink]