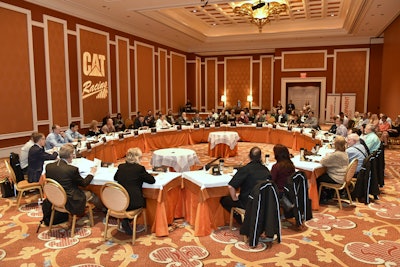 Equipment World has named the 12 finalists of its 2021 Contractor of the Year program.
Each finalist will receive an expense-paid trip to Las Vegas in September, staying at the Wynn Las Vegas resort. During the event, finalists will participate in two roundtables and attend an awards banquet, where the 2021 Contractor of the Year will be announced.
In addition, each finalist will be featured in a profile on the Equipment World site. The Equipment World Contractor of the Year program has been sponsored by Caterpillar for 21 years.
In alphabetical order by company name, here are the 12 finalists, along with some of the comments Equipment World editors received from their references:
Kevin Kronau Jr., Chip Kronau Construction and Equipment, Poestenkill, New York: "They have been one of our top picks since they started working for us. We have very tight schedules for our projects and they have never failed to meet a completion date, and the quality of work is always top notch."
David Nevrotski, Concrete Cutting Systems, Philadelphia, Pennsylvania: "In this day and age, it is rare to come across a contractor that is willing and able to make quick changes on the fly to try and help you reach your goals and help satisfy your own clients. There are not many companies out there like them."
Brian, Kristin and David Gruhot, D & G Excavating, Marshall, Minnesota: "D&G is by far the best and most reliable excavating contractor in the area. They are on the job when they're supposed to be. Their employees are knowledgeable about the work they are to perform, and they are very honest and fair."
Kevin Ennis and Andy Smith, Eco Turf, Raleigh North Carolina: "Eco Turf has gotten us out of so many jams by coming to the rescue and helping us whenever we have major erosion control issues on a project after torrential rains and issues out of our control. They are willing to send the bodies to do the tough/nasty work!"
Christopher Meyer, James A. Rogers Excavating, Little Rock, Arkansas: "If I need him, he's there. And I wouldn't use anybody else., because when I hire them to do a job, I don't have to babysit it. If we have an issue with something, we resolve it right away, and that's peace of mind for me."
Jason Guelig, Jason Guelig Excavating, Mount Calvary, Wisconsin: "His word is always good. We know that he'll stand by his work and his company. And his work is exceptional. He gets stuff done. He's got the equipment to do what he says he's going to do."
Alicia Jimerson and Dennis Wolford, Jimerson Underground, Stafford, Texas: "They are one of the contractors that stand out. It's very rare to say, 'Hey, I want to bring them on the next job.' But they are one of those contractors that I would vouch for that I would want to work with them on the next job."
Joe Horner, MRTE Incorporated, Great Falls, Montana: "We have observed this company display steady growth and expansion. Recently they expanded into the ready-mix concrete production and delivery. I believe they would be a great model teaching smaller contractors how to responsibly grow into the industry."
Josh Burkholder, Oak Hill Contractors, Ewing, Illinois: "I would recommend them for whatever they want to go for, I think that highly of them. Some of the dog-eat-dog stuff I have to deal with day to day, I just don't have to deal with with those guys. They treat their people right; they do everything right."
Bill Panuzio, Curtis Collard and Ryan Greenwood, Preferred Paving, Salt Lake City, Utah: "We have plenty of options for paving contractors in the valley that we work, and the fact that we essentially exclusively use them I think speaks volumes. They always help us achieve our goals."
Matt Pruss, Pruss Excavation, Dodge, Nebraska: "They had a very challenging project with us, especially considering we were in the floodplain of the Platte River. When we experienced the flood of 2019, they continued to push through that, along while they were doing all this other levee work for the state. They continued to honor their contractual obligation to keep the job moving forward. It was a big deal."
Kirby Delauter, W. F. Delauter & Son, Emmitsburg, Maryland: "One thing that really impressed me is that with the size of his business and the amount of employees and equipment that he has, how much he's available and how responsive he is and with his communication."