Case Construction Equipment's is launching its B Series compact track loaders and skid steers with an emphasis on operator controls. The five CTLs and eight skid steers mirror the size and model offering of Case CE's previous Alpha series, and include both radial and vertical lift patterns.
Now available, the B Series debuted at the company's World of Concrete booth this week.
"The focus of the B Series is operator comfort and performance," says says Eric Zieser, Case CE global product manager for compact equipment.
The new loaders feature a redesigned operator interface, including new left- and right-hand posts controls that offer simplicity in ignition, throttle control and switches. Contractors can opt between standard mechanical, mechanical hand-and-foot, and electro-hydraulic controls when specifying a machine. (Charts detailing both the CTL and skid steer models appear at the end of this article.)
"We've redesigned the electro-hydraulic joysticks with brand new layout, switches and controls, providing fingertip joystick triggers and all the key features right there at the touch of the palm of the hands," Zieser says. "The joysticks have a smaller head than our previous generation, which makes them more comfortable and gives operators a better feel of the buttons they use most frequently."
The layout on the right hand post now features a keyless start up that Zieser calls "intuitive. The start up is now almost automotive," he says. To release the parking brake, operators press a large "push to operate" button on the post. Using a rotary hand dial, operators can precisely dial in the throttle to match the job. A standard Bluetooth radio lets operators take calls while keeping their hands and eyes on the task before them.
Center stage in the B Series electro-hydraulic machines is a new 8-inch LCD split-screen display. "The split screen gives you full visibility to the rear view camera all the time," Zieser says.
The rear view camera is standard with the display and can be used in two modes: one with the rear view camera on at all times while showing the main machine parameters at the bottom of the split screen.
In the other mode, the rear view camera is shown only when the machine is in reverse; otherwise the top part of the screen is in "trip" mode. Working in the same general fashion as an automotive trip setting, users can use this setting to record specific data — such as hours of usage — for two jobsites (Trip A and Trip B).
Standard on all electro-hydraulic models, the display also can be added to mechanical configurations for use with the backup camera and operational displays (but without the electro-hydraulic control capabilities). Electro-hydraulic models allow users to switch between ISO and H operating patterns with a button push.
Using the display, users can dial in key operational parameters including:
Set machine responsiveness to low, moderate or aggressive. Operators can also set tilt, lift and drive speed, as well as loader arm and drive control.
Use Creep Speed. This function operates along the lines of a cruise control in a car, allowing the operator to set machine speed at a consistent/slow "creep" while independently setting attachment speed via the throttle. "If you're running a cold planer attachment, for example, you want to have your rpms up for high hydraulic flow, yet you want your ground speed to be very slow," Zieser explains. "With a touch of the button you can adjust the machine speed in increments of 1 up to 100, and your speed is always visible on the display."
Operators can store and recall specific setting profiles — including preferred drive speed, hydraulic flow and joystick sensitivity — to match either individual operator preference or job types.
The B Series' engine shutdown, ignition timeout and engine protection features extend the life and performance of the engine, battery and other critical systems. New fault codes with descriptive text help better identify specific issues, making it easier to communicate with a dealer and determine if further action is needed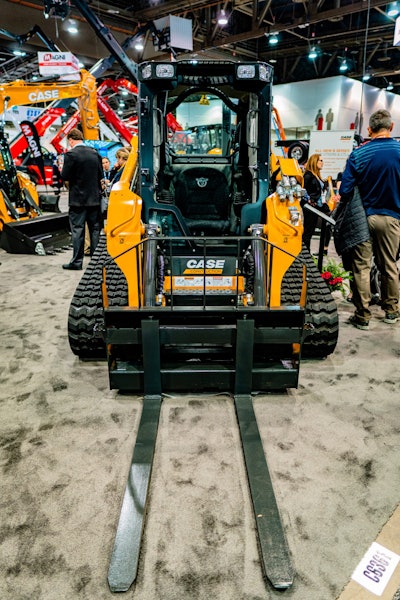 B Series units have either standard, high-flow or enhanced high-flow auxiliary hydraulics with pressures up to 4,000 psi for running high-capacity hydraulic attachments such as cold planers and mulchers. All models additionally feature a connect under pressure manifold design that allows for quick and toolless removal of hydraulic lines.
Depending on their horsepower, B Series models (except the SR160B) feature either a cooled exhaust gas recirculation (CEGR) design with a diesel oxidation catalyst (DOC) that requires no fluids or lifetime filter maintenance, or a CEGR design with selective catalytic reduction (SCR) aftertreatment (on 90 horsepower units) that also requires no lifetime filter maintenance — although it does require filling with diesel exhaust fluid (DEF) as needed.
All regular service points and checks are grouped at the rear of the machine. An optional Case SiteWatch telematics subscription is also available.
Case B Series CTL quick specs
| | | | | |
| --- | --- | --- | --- | --- |
| Model | Lift Pattern | Rated Operating Capacity (50 percent tipping load) | Horsepower | Tier 4 Final Solution |
| TR270B | Radial | 2,700 pounds | 74 | CEGR & DOC |
| TR310B | Radial | 3,100 pounds | 74 | CEGR & DOC |
| TR340B | Radial | 3,400 pounds | 90 | CEGR & SCR |
| TV370B | Vertical | 3,700 pounds | 74 | CEGR & DOC |
| TV450B | Vertical | 4,500 pounds | 90 | CEGR & SCR |
Case B Series skid steer quick specs
| | | | | |
| --- | --- | --- | --- | --- |
| Model | Lift Pattern | Rated Operating Capacity (50 percent tipping load) | Horsepower | Tier 4 Final Solution |
| SR160B | Radial | 1,600 pounds | 60 | CEGR & DOC; DPF |
| SR175B | Radial | 1,750 pounds | 67 | CEGR & DOC |
| SV185B | Vertical | 1,850 pounds | 60 | CEGR & DOC |
| SR210B | Radial | 2,100 pounds | 74 | CEGR & DOC |
| SR240B | Radial | 2,400 pounds | 74 | CEGR & DOC |
| SR270B | Radial | 2,700 pounds | 90 | CEGR & SCR |
| SV280B | Vertical | 2,800 pounds | 74 | CEGR & DOC |
| SV340B | Vertical | 3,400 pounds | 90 | CEGR & SCR |