If you're an operator hoping to learn more about the new displays inside Cat's latest D6 and D6 XE dozers, or you're just curious to see the touchscreen monitors at the heart of these new machines, Cat has released a series of videos on YouTube that provide a great overview and introductions to specific functions.
Introduced in November of last year, the new D6 and electric-drive D6T XE are "a 30-year redesign," and "all brand new from tip to tail," as Cat product application specialist Sam Meeker told us when we first saw these machines.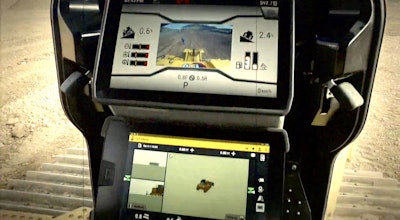 Part of that redesign is a new operator's station with a stack of two 10-inch touchscreen displays: a grade control display and a machine monitor.
In the videos below, Cat details the grade control monitor along with some of that display's features and abilities. Cat also illustrates how to access core machine features within the new machine monitor.
Grade control monitor tutorials
Machine monitor tutorials