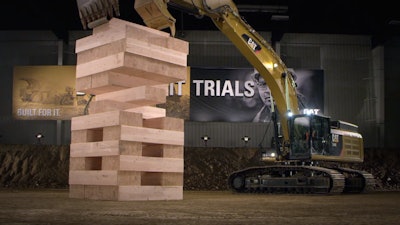 We have a feeling that after seeing this, equipment operators everywhere are going to try to get their hands on their own 8.1-ton Jenga set.
As the first in its new "Built for It" series of trials showing off the capabilities of its heavy machines, Caterpillar posted a video called "Stack" to YouTube today, calling the trial "the largest board game ever played."
Caterpillar gathered five machines—the 349E and 320E excavators, the M316D wheel excavator, the 277D multi terrain loader and the TH514C telehandler—to play a game of Jenga with what have to be the biggest playing pieces of their kind. Each block is 600 pounds and the set is composed of 27 blocks for a total of 8.1 tons. Not exactly safe for a coffee table. And when this thing topples, you don't want to be nearby.
Don't miss the video below.
[youtube DWc8dUl7Xfo nolink]