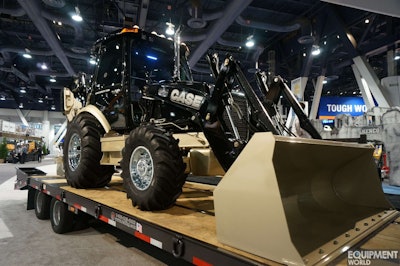 No. 6 Story in 2014
[imagebrowser id=39]
One of the most popular sights in the North Hall at this year's ConExpo without question has been Case's modified 580 Super N Wide Track backhoe.
That's because it's sitting on a trailer attached to a Ram Laramie Longhorn pickup with a matching paint scheme and chrome wheels.
Both the pickup and the backhoe feature the same two-tone black and white gold paint scheme. The backhoe has been outfitted with chrome wheels to match the Ram's and Case added a chrome Lonhorn Laramie badge to the loader arms. Case even redid the backhoe's interior to match the Ram: inside the cab you'll find a plush brown leather operator's seat with the Laramie Longhorn branding.
The back hoe is powered by a 3.4-liter, turbocharged 95-horsepower engine while the pickup is powered by a 6.7-liter Cummins I-6 turbo diesel pushing 385 hp and 850 ft.-lb. of torque. The Ram is capable of towing up to 30,000 pounds, so having the Case backhoe hop on for a ride to turn a few heads is no problem at all. Click through the photos above or select single images below.