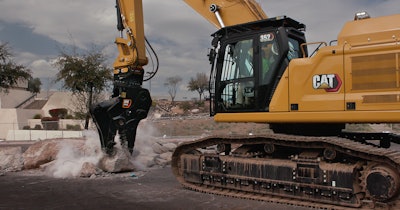 Caterpillar
Designed for dismantling bridges, industrial infrastructure and buildings up to five stories high, Caterpillar has introduced its new 352 Straight Boom Excavator.
With a maximum reach of 42 feet 2 inches, Caterpillar says the demolition excavator delivers 36% more stick pin height than the standard 352 reach configuration. It can handle attachments weighing up to 13,228 pounds.
New Features
A new optional 25,022-pound removable counterweight provides more transportation options and reduces transportation costs, the company says. The mechanical variable gauge undercarriage can be retracted to a width of 9 feet 10 inches during transport. When working, the undercarriage can be extended to 19 feet 7 inches wide for added stability.
A new high-efficiency hydraulic fan features standard automatic reverse to keep the cores free from debris.
The 352 Straight Boom also features standard Cat technologies for increased versatility, precision and efficiency in both demolition and excavating applications, the company says.
Safe, Reliable Operation
The booms, sticks and frame on the 352 Straight Boom have been reinforced for added durability in tough demolition applications.
Standard Falling Object Guards protect the roof and P5A laminated windows from falling debris during demolition while helping to maintain good sight lines. Smaller cab pillars, larger windows, standard radial roof wiper and washer also improve visibility around the machine.
The track frame is sloped to prevent mud and debris accumulation and reduce track damage. Sealed track pins and bushings help reduce travel noise and increase undercarriage life, according to Cat. A full track guiding guard also comes standard.
The 443-horsepower Cat C13B engine offers three power modes – Smart, Power and Eco – to match engine and hydraulic power to the task and reduce fuel consumption. A standard quick coupler and medium- and high-pressure circuits help run a variety of Cat demolition attachments.
Standard rearview and righthand sideview cameras can be upgraded to provide 360-degree visibility. A premium heated and cooled seat is also standard.
More Standard Technology
A host of Cat technologies now come standard on the 352 Straight Boom:
Operator ID enables users to program joystick functions, which are remembered when operators enter their unique ID. It also offers push-button engine starting.
Cat Stick Steer allows single-hand and push-button operation of travel and turning.
Auto Dig Boost offers an automatic power increase when needed, resulting in better bucket penetration, shorter cycle times and greater payloads, Cat says.
Auto Heavy Lift provides operators with more lifting power when needed for as long as needed.
Cat Lift Assist notifies operators when the load is within the excavator's safe working range.
Cat Grade with 2D displays depth and slope on the in-cab 10-inch touchscreen monitor.
Cat Payload offers real-time, onboard weight estimates to help operators achieve precise load targets when excavating. Payload can be combined with VisionLink telematics for remote management of production targets.
Cat Product Link makes machine operating data like location, hours, fuel usage, productivity and diagnostic codes easily accessible to help increase jobsite efficiency and lower costs.
Remote Troubleshoot lets the dealer diagnose fault codes and machine issues remotely without interrupting production.
Remote Flash allows software updates to be pushed out to the machine and installed at a time convenient for the customer.
Simplified Maintenance
Grouped for simplified maintenance, Cat says, all fuel filters now feature an extended, synchronized 1,000-hour change interval. Operators can track filter life and maintenance intervals from inside the cab.
Routine maintenance tasks – such as hydraulic oil checks and fuel system purging of water – are performed from the ground level. An updated hydraulic system improves filtration performance, while anti-drain valves help keep the hydraulic oil clean when replacing the filter, the company says.