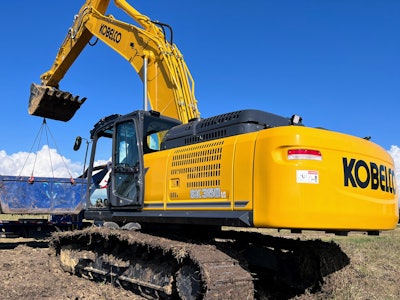 Kobelco
Delivering more lift power and torque, Kobelco has unveiled the next-generation SK350LC-11 excavator.
Weighing in at 84,200 pounds, the new 265-horsepower Tier 4 Final Isuzu engine delivers 745 pound-feet of torque at 1,500 rpm, giving it the power and torque to lift heavy loads and operate large tools around the jobsite. The company says the balance between engine output and torque contributes to more efficient performance than the previous models.
Combined with the boom-to-arm regeneration and swing priority hydraulics, the SK350-11 increases productivity in moving more material at the end of the day.
The new SK350LC-11 is one of the many new models Kobelco is bringing to the North American market in 2023.
The excavator can perform lift, swing and carry functions while traveling. According to Kobelco, selecting the "Independent Travel" function dedicates one hydraulic pump to travel and one to the attachment continuously, allowing for a smooth and constant speed even while swinging or using the boom or attachment.
The SK350LC-11 has three work modes – Eco, S and H – for balancing between high performance, economy and low fuel consumption. The heavy-lift and power-boost (with unlimited time use) features can be activated when more muscle is needed.
Durability and performance have been improved through thicker side panels and a larger bucket cylinder pin.
As part of Kobelco's overall "performance by design" concept, the new -11 conventional tail-swing machines have updated cabs that include a seven-way adjustable, heated air-suspension seat. All switches and dials in the cabin have LED backlighting. For safety, the company says interior lights turn on and off automatically when the door is open, or the ignition is turned to the off position. Also, the flip-up left console with integrated pilot control lock lever tilts for cab entry and exit.
The cabs are heated and air-conditioned through multiple vents pointed toward the operator. The pilot levers are ergonomically situated so they move horizontally without twisting the wrist. Height can be manually adjusted to suit the operator's preference.
In addition, a 10-inch color monitor with a jog dial integrates multiple functions. The menu screen and icons assist the operator to select the most important information needed such as work mode, maintenance intervals and fuel consumption. The monitor provides a 270-degree view from the standard three-camera system. Multiple displays allow the operator to customize views.
The hydraulic-flow modes of the breaker, nibbler and rotating grapple are now fully adjustable through the monitor, and the mode settings for other attachments, such as a tiltrotator, can also be added or changed.
Other features include FM/AM, aux, Bluetooth, hands-free telephone radio, a smartphone holder, a USB charger and a 12V power outlet.
Safety and maintenance
A standard radiator clean-out screen prevents larger material from clogging the radiator cooling fins and can be easily removed for cleaning. A newly structured hydraulic oil filter prevents foreign matter from entering the oil tank during maintenance. All filters are accessible from ground level.
In addition, a standard heavy-duty Level II overhead top guard can be tilted open for cleaning the top window. Seven lights – two on the boom, two on top front of the cab, one on the right side of the body, and two facing the rear on the counterweight – are now standard. Additionally, rear-swing flashers and rear work lights are integrated into the counterweight.
Other standard features include one- and two-way hydraulics (nibbler/breaker), rock guard, replaceable arm bushings, side bumpers, lower swivel guard, control pattern changer (ISO/BHL) and single pedal travel.
For those seeking machine guidance options, the SK350LC-11 comes with preinstalled mounting brackets to fit multiple brands for both 2D and 3D systems.
Kobelco says the machine's operational information such as hours, fuel consumption and maintenance status can be obtained remotely through KOMEXS (Kobelco Monitoring Excavator System).
Quick specs
Engine: Isuzu 6HK1
Power Output: 265 hp
Max. Torque 797 lb.-ft.
Travel Speed: 3.7 mph
Drawbar Pulling Force: 71,900 lb.-ft.
Operating Weight: 84,200 lbs.
Max. Digging Reach: 36' 11"
Max. Digging Depth: 24' 1"
Max. Digging Height: 35' 5"
Max. Dumping Clearance: 24' 9"
Max. Vertical Wall Digging Depth: 21' 7"
Min. Swing Radius: 13' 7"
Bucket Digging Force: 56,200 lb.-ft.