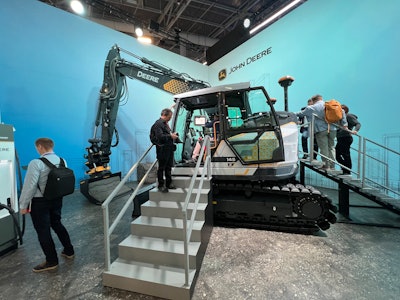 Dane Cotten
John Deere unveiled its new 145 X-Tier electric excavator model at CES 2023 in Las Vegas.
According to Ryan Campbell, John Deere's president of worldwide construction, forestry and power systems, the unveiling of the electric excavator is just a preview of what can be expected from the company at the 2023 ConExpo-Con/Agg.
"The model showcased at CES will also be on display at ConExpo, along with a variety of new machines in most of our product categories," he said.
The reveal of the machine was part of John Deere CEO John May's unprecedented keynote address. He was the first agriculture-technology executive to take center stage. This marked the fourth time the company has attended CES; however, it was the first time showcasing a piece of construction equipment.
Campbell said the electric model will be a part of Deere's future generation of excavators.
"The John Deere lineup of excavators are some of the most advanced, tech-driven machines, and we're excited to share this electrified concept at CES so that attendees can experience the innovation in construction equipment.," he said.
No specifications were made available about the machine, although the "145" designation suggests a mid-sized excavator and it carries the E-Power label as a battery-powered unit.
In addition, the X-Tier represents the company's most advanced models in its naming strategy that debuted in 2021. Signifying their performance and technology tier, models are designated as a G, P, or X. G-Tier are touted as affordable alternatives to similar-sized excavators in their class; P-Tier includes advanced features; and X-Tier denotes the company's hybrid, electric and other advanced features.
The 145 is the first excavator with the X-Tier designation. Previously John Deere released hybrid diesel-electric wheel loaders and was testing an E-Power backhoe with that designation in 2021.
As for excavators in general, John Deere has been manufacturing those for nearly 60 years.
"This battery-powered excavator is a concept machine that is an example of how Deere is innovating in the alternative energy space," he said. "We are excited to have control of the design, technology, feature updates and manufacturing of these future generations of excavators."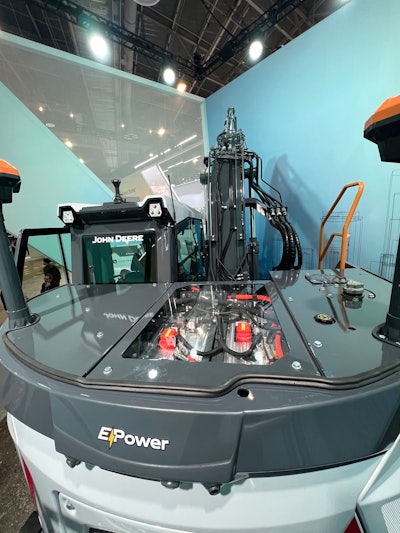 Campbell noted that there is a growing demand for batteries as a sole- or hybrid-propulsion system for off-highway equipment. The 145 X-Tier is powered by a Kreisel Electric battery, which gives it fewer moving parts, less noise and fewer emissions.
"Our majority investment in Kreisel Electric will allow us to optimally integrate vehicle and powertrain designs around high-density battery packs while leveraging Kreisel's charging technology to build out the infrastructure required for customer adoption," he said.
All products in the John Deere portfolio, such as turf equipment, compact utility tractors, small tractors, compact construction equipment and some roadbuilding equipment, could eventually rely solely on batteries as a primary power source.
"Customers have enjoyed the benefits in noise reduction, elimination of the need for diesel and the ability to meet their own sustainability goals," Campbell said. "Going forward, we will continue to incorporate customer feedback as we introduce new all-electric machines and solutions in the future."
No details as to when the 145 X-Tier electric excavator would be available to order. However, Campbell indicated the anticipation would be for it to be on the market in coming years.
"The development of a new machine is a multi-year, multi-phase process, and we continue to listen to our customers to seek new ways to meet the demand for expanded machine offerings," he said.
The construction, forestry and power systems president also noted that the company is constantly exploring new machine and technology solutions.
"We're excited about the future of our hybrid-electric offerings and battery-electric equipment.," he said. "Electric equipment provides our customers with immense value without sacrificing the power and performance they demand in a machine."
Like many other OEMs who have set emission goals, Campbell said, John Deere is committed to providing 20-plus hybrid-electric and full battery-electric machines by 2026.
"By developing hybrid-electric and all-electric equipment models, we aim to deliver lower daily operating costs, reduced jobsite noise, enhanced machine reliability and zero emissions without compromising on power or performance," he said.
Campbell emphasized that John Deere is not limiting itself to electrifying its fleet.
"John Deere is making strategic investments in a diversified range of powertrain solutions to support its customers in future-proofing their equipment operations," he said.
In addition to electrification, John Deere is investing in technical advancements around internal combustion engines, hybrid-electric machines and renewable fuels, as well as exploring other options such as hydrogen.
With the electric models, Campbell said, they are targeting job sites where electricity is most viable, economical and desirable.
"Our commitment to making our customers the most profitable and sustainable in the world runs deep," he said.