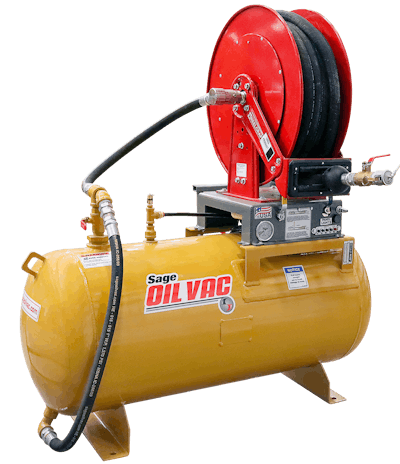 Sage Oil Vac
Sage Oil Vac's new VacBuilt System conveniently collects used oil during field lube services on vehicles and heavy equipment.
Available in a 30- or 60-gallon option, the horizontal used-oil tank features a removable mounting plate for a hose reel and controls. Two welded brackets enable the hose reel and controls to be mounted to the top of the tank or remotely depending on the most effective configuration for the application.
The control panel includes a pressure gauge, a ball valve with a pressure relief setting and a ball valve with a vacuum setting. A one-inch by 50-foot hose reel or a 3/4-inch by 25-foot hose reel are available. The tank can capture and hold fluids from a variety of types and grades of oil.
"Mobile service is gaining popularity in the automotive world. Getting used oil out of the vehicle is the most important part of that oil change. A 30-gallon or 60-gallon capacity will handle many oil changes on passenger vehicles. It is a good initial investment for a company that wants to get into that business," says Aaron Sage, Sage Oil Vac CEO.
The VacBuilt System features Sage Oil Vac's no-pump vacuum technology. A push-on fitting at the air inlet on the vacuum generator simplifies operation, the company says. Compressed air is used to build vacuum pressure to move fluids to and from tanks. Hot motor oil can be sucked from equipment at up to six to eight gallons per minute.
The enclosed, no-pump system protects the operator and the environment from hazardous fumes and fluids. The exclusion of pumps reduces maintenance time and costs.
A single used-oil tank has always been available through Sage Oil Vac's LubeBuilder system. However, the company says the product line required customers to order the components and assemble the system themselves. The VacBuilt systems are now assembled at the factory for added convenience and to ensure product quality.
"With this used-oil solution, it is ready to go. We have taken a common specification and packaged it together. Just hook your air source to it," said Sage.
VacBuilt systems are suitable for both mobile and shop applications. In the shop, used-oil tanks eliminate the need for expensive centralized lube systems. In the field, the tanks easily fit in the bed of a truck.
Sage Oil Vac plans to expand the VacBuilt line with larger-capacity tanks in the future. Overall, the company says, these pump-free fluid exchange systems are "fast, safe, clean, economical and versatile. Clean, sealed tanks protect the operator and the environment, reducing spills."