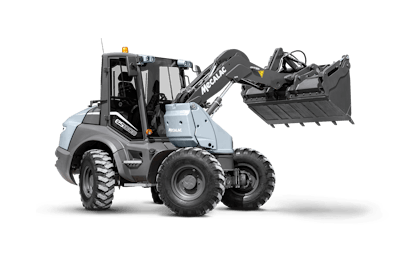 Mecalac
Based on the diesel-powered AS1000, Mecalac has released its new 1.3-cubic-yard eS1000 electric swing loader.
The new model is part of the company's e Series range of medium-sized, all-electric equipment that debuted at Bauma 2022. Other products in the series include the 11-ton e12 excavator, the 6-ton eD6 site dumper, and the M-Power battery charging and power storage system. Mecalac says three of its electric machines working on the same urban jobsite can save an average of 64 tons of carbon dioxide a year compared to equivalent diesel equipment.
Powered by a 75 kWh battery, the eS1000 "consumes only the right amount of energy for the construction operations and optimizes battery use," resulting in 8 hours of run time. The eS1000 is designed for use indoors and in sensitive environments that require zero emissions and reduced noise and vibrations.
The swing loader's arm and bucket are positioned to the side, allowing it to swivel 180 degrees in either direction. In four-wheel-steering mode, the company says the swing loaders have a tighter turning radius than standard articulated loaders and can perform a complete rotation on a 20% smaller footprint than a conventional loader. Two other steering modes are also available: two-wheel and four-wheel crab.
Once the rear axle is locked, whatever is lifted by the bucket can be turned 180 degrees without any loss in stability, even with the wheels fully turned, according to the company. This helps increase efficiency and improve logistics on confined urban jobsites. Mecalac says its swing loader concept aims to "reduce non-added-value maneuvers by swinging the boom, instead of moving the machine."
"The Swing Loader architecture results in an economy of movement. This translates into reduced cycle times, noise and visual nuisance, maintenance costs and risks of accidents, as well as a lower impact on the environment," Mecalac says.
A spacious cab with two doors provides increased comfort and visibility.
[Watch: "This Thing is Awesome": Mecalac's 8MCR Skid-Excavator (Review)]
Quick Specs:
Operating Weight: 15,620 pounds
Battery Capacity: 75 kwH
Width: 6' 6"
Lift Capacity at Maximum Height: 11' 4'
Lift Height: 8' 8"
Tipping Load (Standard Bucket, Straight): 9,480 pounds
Standard Bucket Volume: 1.3 cubic yards
Boom Type: Swing boom