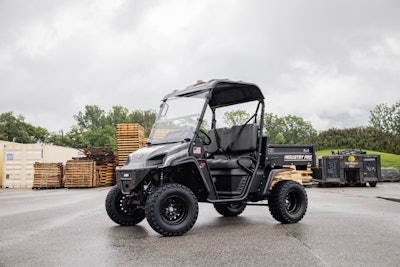 Landmaster
Landmaster has rolled out new commercial-grade utility vehicles through the Industry Pro UTV line for construction, industrial and rental applications.
The lineup features nine models, including two-passenger, four-passenger, long bed and sports field management options. Customers can choose between gas or lithium-ion-battery-powered vehicles.
Industry Pro UTVs come equipped with standard four-wheel hydraulic disc brakes, a three-point seatbelt, a Marine-grade foam seat, ROPS-certified rollover protective cages, automotive-grade greaseable ball joints and bushings, heavy-duty shocks, a front bumper, backup alarm, horn, strobe light and taillights. Customizable speed options of 15 or 24 miles per hour are available. Landmaster partners with Vanguard motors, Timken motors and Shaeffer transmissions.
"We have designed this vehicle lineup to match the most demanding usage and environments and provide a proven one-stop solution to commercial equipment dealerships across the U.S.," says VP of Sales and Marketing Dustin Noble.
Industry Pro Lineup
Gas Models: The Pro 5, Pro 7, Pro 7 Crew and Pro 7 XL long bed are powered by a Vanguard V-Twin EFI engine with a three-year warranty.
Lithium-Ion Electric Models: The Pro E, Pro E Crew and Pro E XL feature an HD 600-amp high torque electric motor and on-demand four-wheel drive. The units have a 1,000-pound cargo bed capacity and a towing capacity of up to 1,750 pounds. The lithium powerplants produce up to a 50-mile range with a 6- to 8-hour charge cycle. The battery has a 10-year lifespan, weather-sealed electrical connections and a five-year limited warranty.
Field Management Model: The RVR 4x2 low-clearance vehicles provide "the largest towing and cargo capacity in the industry," Landmaster says. It also offers standard power steering, adjustable bucket seats and front and rear 2-inch hitch receivers.
Andy Carney, director, commercial sales, adds, "The Industry Pro line of commercial vehicles represents everything we've learned over multiple years of supporting construction, industrial and fleet customers with work vehicle solutions. Safety as the No. 1 priority, durability and best-in-class ease of maintenance combined with easy, quick access to service parts and technical assistance will help minimize downtime and keep our commercial customers running safely and efficiently."