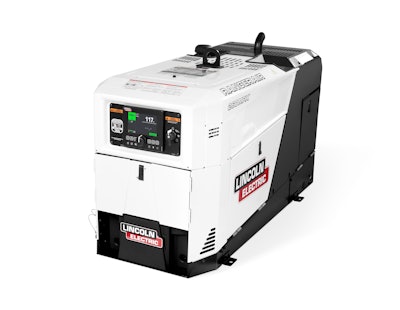 Lincoln Electric
The Ranger Air 260MPX multi-function engine drive has been introduced by Lincoln Electric.
Designed specifically for the work truck industry, the company says the Ranger Air 260MPX is many things including an air compressor, a generator, a battery charger, a battery jump assist, and a multi-process welder all in one. Combined, the unit's abilities help eliminate the need to carry numerous pieces of power equipment on a service truck, reducing payload and freeing up space for other tools and gear.
Lincoln Electric says the unit provides high-performance capability in all areas including air compression, auxiliary power, and welding arc performance.
The Vanair compressor delivers 40 cfm at 150 psi. Lincoln says with up to 30% more air than other machines in its class, operators can inflate tires faster and power anything up to a 1-inch impact wrench. Also, the compressor is backed by Vanair's lifetime warranty.
A variety of tools and equipment can be powered via the 26.5-horsepower Kohler electronic throttle body engine that delivers 10 kW of continuous AC generator power.
Variable engine speed helps lower maintenance costs and improves fuel efficiency for the machine. Also, with 5% total harmonic distortion, it is even able to power sensitive electronics like laptops.
Lincoln Electric's welding arc control technology (including Ready.Set.Weld and ArcFX) is built into the Ranger Air 260MPX.
Further, the company says the unit is designed to assist in providing a lower total cost of ownership. According to Lincoln, an auto-stop/start technology with tap-to-start functionality enables the operator to save up to $1,200 in fuel and maintenance costs per year.
Quick Specs
Rotary Screw Air Compressor: 40 CFM at 150 psi
Generator: 9kW
Multi-Process Welder: 260A/26V/100% Duty Cycle
Battery Jump Assist: 12V and 24V batteries at 260-amp output
Battery Charge: 12V & 24V batteries at 25- and 50-amp charge