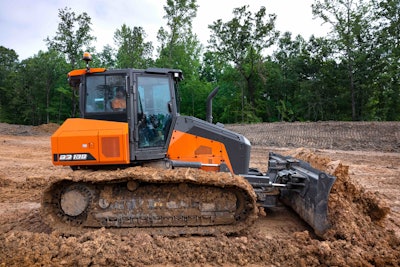 Develon
New dozers are out or on the way in 2023 for contractors looking for small to midsize models.
Case Construction Equipment is updating three of its M Series models with complete redesigns of internal components. Develon, formerly Doosan Infracore, has a new larger model out following the debut of its first ever dozer in 2022. And Dressta has rolled out the smallest dozer to its lineup.
Cat is adding more standard technology to its small and mid-size dozers. Komatsu is also upgrading the tech for its line. And Tigercat is out to prove its new forestry dozer is a good choice for construction contractors as well.
In this report, we also present models from John Deere and Liebherr.
Case
"We have a product update on our 650M, 750M and 850M, and those updated models will start arriving in dealerships in October 2023," says Jeremy Dulak, product manager, dozers, Case Construction Equipment.
The updated machines will be hard to discern visually from existing models; even the "M" in the model names will remain. But the changes are significant.
Electrical and hydraulic routings have all been completely redesigned. "The starting point was not to attain piecemeal improvements," he says, "but to create a clean-sheet design."
The main chassis harness now uses a braided design for greater durability. It is also anchored to the frame better. The goal was anchor points every 12 inches, and the final product is close to that goal.
All connectors have retention plates; P clamps and weld links are used for mountings. Strategic jumper harnesses are used to facilitate service and repair, if needed.
With hydraulics, zip ties were eliminated as were stacked fittings; there is a significant reduction in potential leak points. A main manifold that was more or less centrally located has now been split up and distributed, resulting in better access to lines and fittings and shorter hose runs.
Blade control has been improved. The 650M still uses mechanical blade control but has improved valving for 20% less effort. It remains mechanical because some operators prefer the feel of mechanical controls and because the 650M is not considered a production-class machine.
The 750M and 850M now have electrohydraulic controls for better control, improved blade response, reduced operator fatigue and blade shake. Machine control is available from the factory with a choice of several Leica packages, or the customer can order the dozer with the Universal Machine Control option, which configures the machine to easily accept the customer's preferred brand and type of machine control.
Other improvements include a standard rearview camera on cab models, standard LED lighting, a Bluetooth radio, new slam latches on all access panels for greater convenience and security and the same blade pitch control design as used in larger models to improve familiarity.
Caterpillar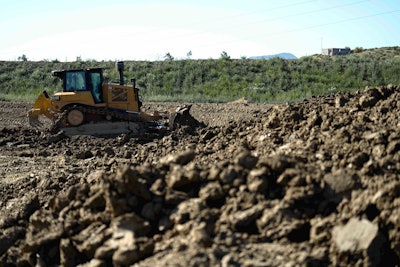 At this point, all Cat small and medium dozers are Next Gen models except the D8. In 2024 all but the D8 will have Stable Blade Generation 2 as standard. All but the D4 will be Remote Control Ready. All will have Slope Indicate as standard equipment.
ARO, the Attachment Ready Option, simplifies the addition of common options and attachments. ARO has been an available option on all small- and mid-size dozers; in 2024 it will become standard on D4, D5, D6 and D7. Cat will begin downplaying the ARO designation and will focus more on Cat Assist. Base models will be Cat Assist with ARO; the next tier will be Cat Grade with 3D and Assist.
The suite of features with Assist includes Slope Assist; Steer Assist; Blade Load Monitor, which automatically compensates for ground conditions to optimize blade carrying capacity; Traction Control, which has Normal and Low-Slip modes; and Auto Carry, which works in conjunction with Traction Control and activates automatically when the operator has loaded the blade to its optimal pushing capacity. Features are configurable. Auto Carry has a load factor from 80 to 105 to better match underfoot conditions. Steer Assist has a straight-line mode; it's especially helpful when slot dozing on a side slope or when backing up during trap dozing. Steer Assist 3D will follow a curve.
Next Gen dozers from Cat do much more, but getting the most from them requires skilled operators, notes Sam Meeker, market professional, Cat. To give greater access to the required training, Cat has the website CatOperatorTraining.com.
Develon
The DD100 was Develon's first foray into the dozer market. The company formerly known as Doosan Infracore, has now followed up with the DD130, which will arrive at dealerships this month.
"The DD100 has been well received," says Jake Sherman, Develon product and dealer marketing manager. "It was an excellent foundation for our newer, larger DD130."
Cabs on both are similar; both use the same 8-inch full-color monitor and have an emphasis on visibility. Ergonomics are nearly identical. Although differing in size, rippers are the same design, with parallel linkages to maintain a consistent ripper angle as height varies.
The DD100 has both 2D and 3D systems as options; the DD130 has a 2D system with 3D coming soon. A six-way power-tilt angle blade with blade shake is standard on both.
Develon Fleet Management telematics are standard on both, and both can be optioned with Smart X-Care, a more comprehensive package where machine operation is monitored by Develon staff, and push notifications are sent to customers and their dealers for proactive maintenance and repair.
The DD130 has a larger, more powerful engine – 145.8 versus 115.3 net horsepower. The oscillating serrated track system of the DD130 improves the interface of track elements for better traction and greater accuracy in following ground contours. This results in more blade loading and carrying capacity and more precise grading.
The optional 3D machine systems include a dedicated GPS monitor that mounts below the standard monitor and provides an enhanced view of the dozer on the jobsite. 3D machine guidance reduces required operator inputs by up to 80% by activating blade movements based on GPS coordinates.
While both 3D systems, machine guidance and machine control, require GPS, the 2D system functions with no need for satellites or lasers. It controls the blade based on operator inputs to finish jobs faster and with greater accuracy, the company says.
Factors in improved visibility include an inline pre-cleaner placed under the hood, the electronic cooling system being placed at the rear of the machine, low-profile front pillars for maximum glass space in the cab and full-glass doors.
Dressta
Dressta has added the 173-horsepower TD-16N to its lineup, which includes the 232-horsepower TD-15M and 375-horsepower TD-25M.
The TD-16N's four-post operator cabin features a center seat with a high back and headrest. The position enhances visibility and gives a view of the new 10-inch full-color touchscreen display to the right.
The full hydrostatic transmission drives the tracks independently for better traction and maneuverability without gear shifting while also reducing fuel consumption, the company says. Other standard features include a six-way blade system, three-shank ripper and rear-mounted cooling system with reversible fan.
"The Dressta brand has been part of the LiuGong family for more than a decade," says Carlos Martinez, product manager, road machinery, LiuGong North America. "Our combined resources and close communication with customers were integral to the development of our new dozer line, including our newest model, the TD-16N."
Komatsu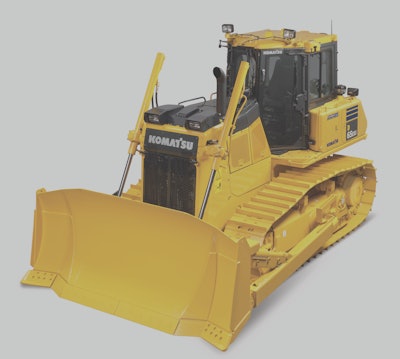 The D65i and D85i are the workhorse machines at the core of Komatsu's extensive line of dozers. Komatsu adopted tech from both their hydrostatic and torque converter models for these two midline models.
Tilt steering automatically tilts the blade to keep the dozer tracking straight. The cabs have Bluetooth multifunction radios. LED lighting improves visibility, especially to the rear when using a ripper.
Integrated ports make it easy to collect clean fluid samples for analysis, and the Komatsu Oil and Wear Analysis (KOWA) program makes comprehensive analysis convenient.
Next-generation Komtrax telematics with improved monitoring yields more information about machine operation, better reporting and better integration with intelligent machine control IMC 2.0, which is available on models from D39i to D85i. IMC 2.0 uses more satellites for improved speed and accuracy, the company says.
"With iMC 2.0, we're looking at grass-to-grade," says Casey Zbinden, product marketing manager. "One machine can now do it all, from first pass to finish grade."
Along with IMC, other dozer model designations are EX, PX and WX, indicating track width from narrow to wide.
Zbinden says one area of growing interest is for the waste package. Several components are optimized for waste, and Komatsu configures the machine to simplify installation of the fire suppression system preferred by the customer, which the customer must source from a third party or as a dealer-installed feature.
Tigercat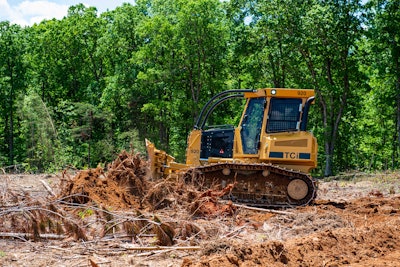 The TCi 920 dozer was developed by Tigercat Industries in response to demand from the forestry market but is well suited to construction and other applications.
The impact-resistant belly pan, 7.5-inch pitch heavy-duty undercarriage and efficient closed-loop track drive system that make the TCi 920 durable enough for forestry also make it exceptional for land clearing and other demanding tasks.
"Because it was developed for the rigors of forestry, the 920 is more robust than the typical construction dozer," says Chris McMillan, marketing technical writer, Tigercat.
The cab features a heated and cooled air-ride seat, ergonomic armrest-mounted joysticks and a touchscreen monitor. The cab design combined with the sloped hood and rear-mounted exhaust provide good sightlines to the blade and tracks.
For more than 30 years, privately held Tigercat Industries has produced forestry equipment. In 2022 the company launched the TCi brand to differentiate its core forestry products from future on- and off-road equipment to be developed for the construction, utility and industrial sectors.
More Models