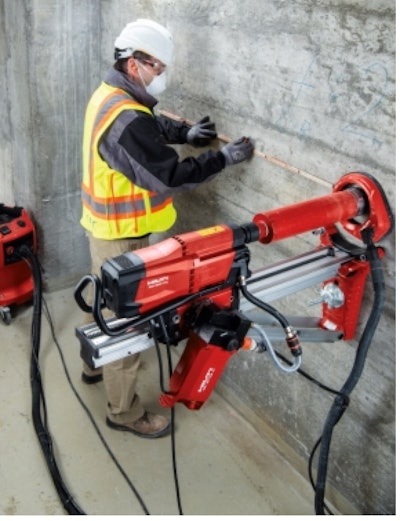 One of the toughest jobs in construction is drilling a clean, accurately dimensioned hole in a concrete structure.
Hilti's solution is to pair its DD 250-CA diamond core drill with a DD AF- CA Cut Assist auto-feed unit that intuitively guides the tool through the entire drilling process. The company calls this a semi-autonomous drilling system and says contractors using it can achieve significant productivity gains and convenience on jobsites.
The DD 250-CA diamond core drill uses integrated technology to provide the operator guidance for proper drill setup, real-time drilling feedback, and productivity data once the drilling is complete. The smart tool is designed for a full range of applications including drilling penetrations for ducts, pipes and cables and drilling blind holes for setting anchors or post-installed rebar. For Hilti customers who have the DD 150 U diamond core drill, the DD AF-CA L auto-feed unit can be used.
With Hilti Cut Assist technology, operators can perform difficult coring jobs with greater safety, more comfort and less fatigue in difficult conditions. Intelligent features include automatic surface detection, tracking of drilling depth, water management, hole starting and through-hole detection.
To reduce concrete dust and stay on the right side of OSHA silica regulations, the Hilti WMS 100 BLE water-management system and auto-feed units automatically work together to provide a complete system solution.