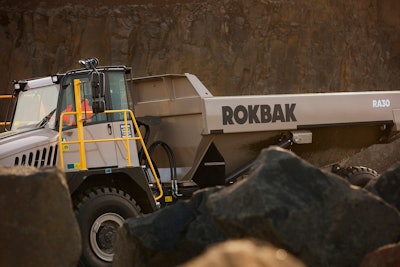 Volvo
Terex Trucks is now Rokbak, in a move that removes the Terex name from the articulated truck line Volvo Group purchased in 2014.
"Now is the right time for us to carve a brand new name for our business," says Paul Douglas, Rokbak managing director.
Under the Rokbak brand, Volvo Group subsidiary Volvo Construction Equipment is offering two models, the 30.9-ton RA30 and the 41.9-ton RA40. Coming in new colors and livery, Volvo says, the two units offer better fuel economy, lower emissions, improved safety and greater durability than the previous Terex Truck models, TA300 and TA400.
Improvements include Tier 4 engines, a new transmission on the RA30, the introduction of Haul Track telematics and an emphasis on operator comfort and safety. The RA30's ZF transmission has a 4,000-hour oil change, and the RA40's Allison transmission comes with a 6,000-hour oil change. In addition, the RA40's transmission has adaptive shifting and drop-box two-speed ratios, helping the truck maintain optimum momentum, Volvo says.
The Haul Track telematics offers information such as machine location, hours, engine speed and idle time, machine operating parameters, fuel consumption and system fault code alerts.
Wide pivoting steps and service platforms provide safe and easy access to the cab.
"We already have a very healthy order book for the new brand, and we want to further expand our reputation, dealer network and market share," Douglas says. "We're still the same skilled, experienced, and passionate team, committed to making rock-solid haulers every day. But we also have a clear vision for where we want to go and who we want to be."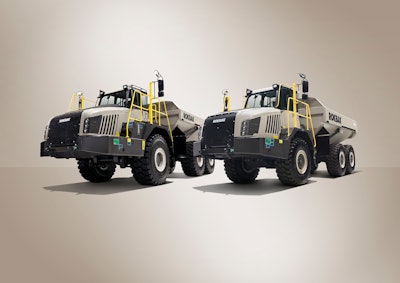 Rokbak has quite a legacy. Volvo traces the machine's lineage back to 1934 when Euclid Road Machinery built what Volvo calls the world's first off-road truck, the Model 1Z. The trucks have been made in Motherwell, Scotland since 1950. General Motors bought Euclid in 1953 and renamed its earthmoving division "Terex," from the Latin "terra" (earth) and "rex" (king). Terex became independent of General Motors in 1987, was bought by North West Engineering in 1992, forming Terex Corporation. Volvo Group bought the off-road truck line from Terex in 2014 and marketed it until now as Terex Trucks.
"It's important for us to preserve the heritage, expertise and relationships that have been built up over the years," says Melker Jernberg, president, Volvo CE and executive vice president, Volvo Group. "We didn't want to start changing everything about what made Terex Trucks so successful in the first place. It was crucial to allow the company to run with the same autonomy that it always has. As Terex Trucks rebrands to Rokbak, we see continuation of the company's strong tradition, shaking up the industry and doing things in their own way."