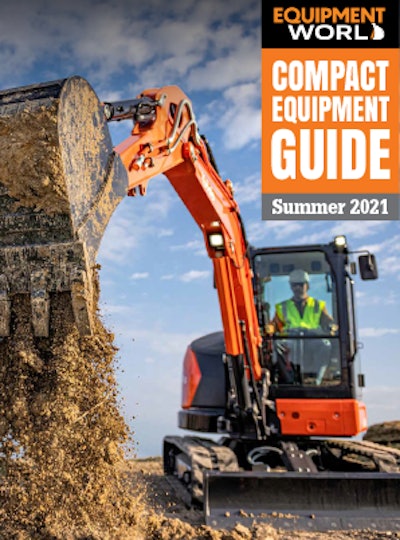 Compact equipment is as hot as the temperatures outside this summer.
Buyers bought compact track loaders, compact utility loaders, skid steers and compact excavators in droves during the height of the pandemic and are continuing to do so today.
Our 2021 Equipment World Compact Equipment Guide is designed to give you an overview of what's on the market, what you should consider when buying one of these great machines, as well as best user practices. To keep all this information organized, we've divided it up by machine type.
[Download our 2021 Compact Equipment Guide here.]
Compact utility loaders: How these versatile, powerful machines are storming the market.
Skid steers: Why these machines are settling in as the go-to compact machine. And a bonus article that compares skid steers against compact track loaders and examines which is best for which task.
Compact track loaders: Long surpassing skid steers in number of units sold, these machines are undergoing rapid enhancements.
Compact excavators: Why now may be the right time to invest in one of these handy machines. In addition, we look at 14 compact excavator attachments that do much more than dig.
Find out all of the above by downloading our 2021 Equipment World Compact Equipment Guide.