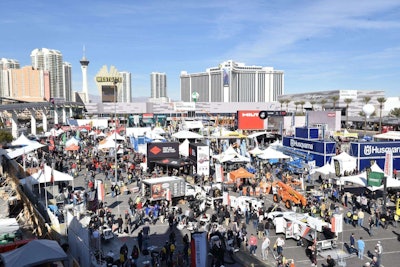 The Nevada Department of Business and Industry has now approved the June 8-10th dates for the World of Concrete construction equipment trade show.
The show will be one of the first events to occupy the new West Hall at the Las Vegas Convention Center, a $980 million expansion that added 1.4 million square feet to the existing 3.2 million-square-foot complex.
World of Concrete announced the show date move last fall, the first in its 46-year history. Construction equipment trade shows and events were hit hard by the pandemic, forced to either move or even cancel long-established events.
World of Concrete owner Informa Markets says it submitted a health-and-safety plan to the Nevada department following Nevada Gov. Steve Sisolak's reopening plan announced on March 12th. Informa says the event will follow its internal AllSecure health and safety measures, including mandatory face masks and temperature checks.
In addition the show will use non-contact registration, adherence to a crowd density standard and one-way entrances and exits.
According to Jackie James, group director for World of Concrete, the event will be "one of the first large-scale events to set the industry standard for safe and successful economic recovery."
Informa reports that 80% of past attendees responding to a third-party survey said they were "likely to attending June and 97% viewed the decision as favorable to the industry."
Attendee registration will open in late March, and exhibitor registration will open in April.