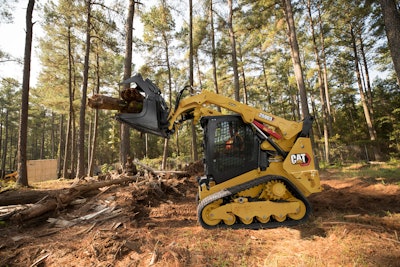 Caterpillar
What goes into calculating the owning and operating costs of a compact track loader?
We'll be delving into that question, but first you should know this will not be a plug-and-play discussion. The variables around each machine purchase are considerable, and the end number can differ significantly from owner to owner. These variables include the machine options you select, the severity of your application, how long you intend to keep the machine, interest rates and local labor and fuel costs.
In the end, what you are looking for is a solid estimate of your CTL O&O costs, one you can use to evaluate what your anticipated hourly costs will be over the life of a machine you're considering buying.
This process will also give you a baseline number as a machine goes through its life in your fleet and help you evaluate whether it met your expectations. It will also help you hone your process for the next CTL you buy, especially if there were some unexpected factors that significantly affected your anticipated costs.
For this discussion, we've tapped into the expertise of two Cat product specialists, Kevin Coleman and Theren Peterson. Our sample machine will be a 74-horsepower Cat 259D3, which at 2,010 pounds rated operating capacity is a little over midway on Cat's CTL size depth chart. For more 259D3 specs, check the chart below.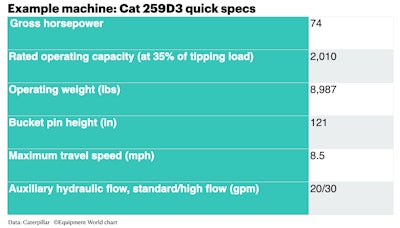 To help you plug in your own numbers, we've added a calculator that you can download here. This calculator is designed to give you a beginning estimate of the O&O costs for the machine you're considering. To do a deeper dive, we recommend you talk with your dealer.
Expected life
A key multiplier – one that you will use to determine your estimated hourly costs throughout your calculations -- is of course the total number of hours you anticipate owning the machine.
Average CTL use is around 500 to 650 hours per year, say our experts. A typical CTL first life is usually placed at three to four years, or 2,000 to 2,600 hours. You may need to adjust this number up or down depending on your circumstances – the types and severity of the jobs you plan to use the unit on and how long you typically keep machines.
Owning costs
On cat's shop.cat.com retail website, a basic cab-version 259D3 in Alabama with no attachments is priced at around $66,000. Add a 0.63-cubic-yard bucket and the price goes up to around $68,000, or roughly $1,100 per month for 60 months. (Note: This reflects March 2021 prices.)
At the time of this writing, Cat was offering 0.0 percent financing for 60 months if you signed up for a Cat Customer Value Agreement. But keep in mind that in the stronger 2017 market Cat Financial was offering 3.25 percent financing for 48 months on CTLs, so the interest rate will definitely change as market conditions trend up or down.
Also note that the shop.cat.com retail prices are dealer-specific and may vary by location.
But definitely check out Cat's payment calculator and affordability calculator on the site. The first determines your payments over the life of the loan or lease. With the affordability calculator, you input the terms you're seeking (monthly payment, down payment and interest rate) to help determine how much you can afford to finance or lease.
We're also going to assume that you're financing a new machine, instead of using a lease or a rental purchase option. Both of those avenues will add different factors to the equation and are best discussed with your dealer.
Options, options
Manufacturers rarely come to market with just a vanilla machine. The good news is that several previous options now come as standard. On the 259D3, standard features include a torsion suspension undercarriage, two-speed travel, a color advanced display monitor and an integrated rearview camera.
In addition, Coleman and Peterson say Cat's new Smart technology recognizes certain attachments and tailors the joystick controls to match the attachment, eliminating the need for extra controls or buttons/switches to operate more complex attachments.
Then there are lots of extra goodies to consider, all of which will increase the amount in the top line of your calculation. But since many of them offer the potential for significant productivity increases, they shouldn't be dismissed out of hand as too expensive.
On our 259D3, for example, you could opt for an advanced control feature bundle that includes these productivity features:
Return-to-Dig, which allows the operator with the touch of a button to automatically lower the arms and return the bucket or attachment to a pre-selected angle.
Work Tool Positioner, giving operators the ability to set the work angle (or tilt position) of any attachment, designed for repetitive tasks such as fork operation and trenching. Cat also says this feature can increase life on attachment wear items.
Dual-direction self-leveling, which automatically levels the loader linkage when raising and lowering the lift arms, designed to increase stability and reduce spillage.
Other popular options include counterweights to add stability for handling heavy loads and comfort items such as enclosed cabs with AC, air suspension and a ride-control system.
Financing costs, taxes and insurance should also be figured into your owning costs, as well as any service agreements or extended warrantees.
Disposal price
We're not done yet with owning part of your equation, however.
One key part of the owning calculation is your expected disposal price, or what the machine will get when you sell or trade it in. This will be subtracted from your overall owning costs.
For that, you'll need to factor in your estimate of how many hours you expect to put on the machine and how heavy you'll use it. If you put a lot of hours on a machine or run it in hard applications such as demolition you usually can expect it will get a lower price when it comes to sell. The opposite is also true; lower-hour machines working in less demanding conditions typically fetch higher resale prices.
It's also good to know how the brand you're considering fares in the resale market. Cat, for instance, is known for getting a premium on the auction block. "We've seen 259-size models with around 3,000 hours retain about 45 percent of their value at auction," Coleman says.
The retained value at auction will vary depending on manufacturer, machine model, hours, and machine condition. Coleman advises visiting the available third-party auction websites to research historical auction results to get a solid estimate what the machine could realize on retail. "When doing this research, remember to select the representative hours and age you expect to achieve on the machine you are considering," he says.
Of course, you can also trade the machine in, sell it on consignment or sell it outright. Each avenue has different costs and/or fees. Since you do not know what the resale market will be doing when you're ready to dispose of the machine, a discussion with your dealer can help guide you on expected value retention. This is usually calculated as a percentage of the original price.
Past experience and maintenance reputation can also factor into this equation. If you've purchased and traded-in/sold a similar-sized CTL before, how much of the original price did you receive at resale? This also may be where your company's great maintenance reputation gives you a premium.
Calculating owning costs
Add up the cost of the basic machine and any additional purchases, such as optional machine features, attachments, extended warranties and service agreements. Then add in your total financing costs, insurance and taxes.
Subtract your anticipated disposal value from that number. This will give you your expected machine owning cost. To get your owning cost per hour, divide that number by the number of hours you expect to keep the machine. Keep that number to the side for now. (And you can download our calculator to plug in those costs.)
Operating costs
Labor and fuel costs will likely be your two largest operating costs.
According to the U.S. Bureau of Labor Statistics, the 2019 median pay for a heavy equipment operator was $23.26 per hour. This rate, however, includes all U.S. locations and the rate for operating all types of equipment, from compact machines like CTLs to cranes.
All costs are local, so it's important to plug in how much you are paying your people to operate and maintain your equipment.
At the time of this writing, diesel fuel was averaging about $3.07/gallon across the U.S. Again, good to know, but what are you paying locally?
At 74 horsepower, the 259D3 does not require the use of diesel exhaust fluid, but when you start to get into higher capacity skid steers, particularly those above 3,150-pound rated operating capacity, many models have 75-and-above horsepower engines that will require using DEF as part of their emissions reduction system. So we've included a line in our online CTL O&O cost calculator for DEF.
For both labor and fuel, factor in any anticipated cost increases over how long you expect you will keep the machine.
Preventive maintenance costs can be figured up front: all OEMs detail when oil and filter changes should occur, including hydraulic oil, engine oil, engine coolant, final drive oil and associated filters. Other replacement items include cab and engine air filters, but the schedule depends on the conditions in which the machine is regularly operating.
"If a machine is operating in dry and dusty conditions, the addition of a pre-cleaner to the engine air intake system can reduce the required service frequency and extend the filter life," Coleman says.
You will need to develop your anticipated repair and PM hourly labor cost with your dealer. Factor in any dealer PM service agreements.
It's typical for CTLs to require servicing hydraulic oil and filters at 1,000 hours. But keep in mind a machine may have built-in factors that will decrease your PM costs, thus lowering your operating costs.
For example, the 259D3's factory-installed hydraulic oil doesn't need to be changed until the 6,000-hour mark as long as the oil is monitored with the Cat SOS (Scheduled Oil Sampling) program and filters are changed on schedule. Similarly, the factory-installed extended life coolant is designed for up to 12,000 hours, well beyond the typical first life of a CTL.
Cat says less frequent service intervals over a 3,000-hour ownership period can result in savings up to $2,800 and 30 percent less downtime for scheduled maintenance compared with brands that require more frequent service.
Telematics have come to compact machines and Cat offers ProductLink on the 259D3 to monitor hours, location, fuel usage, working-versus-idle time and machine health monitoring. This data is designed in part to help you manage your maintenance and repair costs.
Wear items
Keep in mind that there is no one universal CTL undercarriage design, which means track replacement costs will vary by brand. Work with your dealer to zero in on the track costs specific to your machine.
Wear items are also a factor in operating costs. Rubber tracks and drive sprockets, for example, will likely need to be replaced in the machine's first life. In normal applications, industry sources have CTL tracks lasting around 1,200 to 1,600 hours. If we assume a 2,600-hour first life for the machine, that would mean one, maybe two, track replacements.
But several factors come into play with those numbers.
"Application, operating techniques, underfoot conditions and maintenance practices will have the most significant impact," Coleman says. "When the track no longer has enough tread to transfer power from the drive motors to the ground or cannot maintain the proper track tension, then it should be replaced."
As Coleman points out, your maintenance practices will be a critical factor in lowering costs. "A properly adjusted track maximizes track service life and machine performance," he says. Tracks run outside of their tension specifications (too loose or too tight), or not cleaned regularly or properly, can cause accelerated undercarriage wear to components, and increase O&O costs.
Attachment wear
Our experts say that one of the most overlooked items in scheduled maintenance is replaceable wear items on attachments. "Bucket teeth or cutting edges are doing the heavy lifting," Peterson says, "and once they wear back to the base material of the attachment, the repair or replacement can get costly." In most cases, cutting edges are reversible, designed to be flipped over for additional life.
Other attachment wear items include auger bits, broom bristles and teeth on trenchers, cold planners and wheel saws. If you add an attachment to your front-end owning costs, make sure to account for the replacement of its associated wear parts in your operating costs.
Another possible wear item is the undercarriage's idler/roller wheels, which will need to be periodically replaced. Depending on your typical job conditions, however, they may last through many track replacement cycles and thus not be a factor in your O&O calculations if you plan to sell the machine at around 2,000 to 2,600 hours.
Long-term repair expenses
If you plan to hang on to your CTL longer than four years, or if you're buying a high hour used machine, you may want to add some long-term operating costs into to your equation for higher dollar fixes after you're out of warranty. Check with your local dealer or shop on actual costs for such items as engine replacements, hydraulic pumps and drive motors and idler/roller wheels.
Final tally
Add up your anticipated owning costs, including labor, fuel, repair and PM costs, the number of track replacements, lubricants, wear parts and consumables. (Again, you can download our CTL O&O cost calculator here.) Divide this total by the number of hours you expect to own the machine to get a cost per hour.
Add the owning cost per hour that you calculated earlier with the operating cost per hour. This will be your total O&O cost per hour.