Dynapac says it can achieve 94 percent pre-compaction with its new screeds on its highway-class pavers, including the 20-ton SD2500CS paver it rolled out at ConExpo.
The company added a hydraulic pressure plate to the back of its new tamper, high-compaction electric (TH E) screeds. "That pressure plate is what gets us between 90 and 96 percent compaction off the back of the screed," says Marco Paris, technical specialist. "That's huge, because you literally can almost just run one roller behind this paver, and you'll get your compaction numbers." He notes that typically three rollers are required for compaction behind similar-sized pavers, primarily used for new roads and airport projects or any conditions in which higher compaction is needed before roller compaction.
Operators can adjust the pressure plate's vibration via the screed remote-control panel or by the main operator station. "That's how you get deep compaction, not just the top little half-inch or three quarters of an inch," Paris says.
The screeds come in two models, the V5100 TH E and V6000 TH E, with working widths up to 29.5 feet.
Dynapac also added a variety of other screed functions to its remote and main controls. "I can lift the screed up," Paris says. "I can put it into float; I can run the augers up and down."
"If you have a manhole and you want to quickly go up … all those functions can be directly done through here," adds Anup Jacob, product portfolio manager.
Lifting and lowering the track plow, or lane cleaner, can now also be done from the operator panels. And when you stop the paver, Dynapac added technology that keeps the screed from lifting up, which can cause a line on the mat.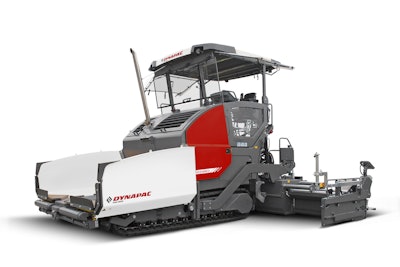 The SD2500CS runs on a 200-horsepower Cummins Tier 4 Final engine. It has working widths of 6.7 to 33 feet and can pave up to 12.2 inches thick. The hopper capacity is 212 cubic feet, and max paving speed is 92 feet per minute.
The paver can also be equipped with MatManager and Paving Manager Pro system to improve paving efficiency and quality.
MatManager allows input of paving parameters, such as square yardage to be paved and the tons of asphalt needed. The system tracks the paving operation in real time, allowing comparisons to what's occurring and what was planned to make sure material is arriving as expected and the paving is occurring efficiently. It also scans the temperature of incoming and outgoing asphalt. "And with all this data collected, you can generate reports that you can analyze," Jacob says. "So they can later on take steps for additional optimization."
The Paving Manager Pro system focuses on logistics, such as the delivery of asphalt from the plant to the job. After inputting parameters, such as the number of asphalt plants, the system will generate a paving concept. "The paving concept will have the number of trucks needed, the time range required for the truck to reach the jobsite, how much time the truck has to wait and the time needed for the truck to go back to the asphalt plant," Jacob says. "So based on this calculation, you will know how much tonnage you need per truck per day and how many trucks you need."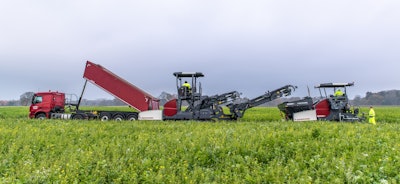 All those involved in the jobsite who need to see this information will have a pass code to view it by app or the cloud. The trucks' arrivals and departures are logged. "Once the jobsite is done, you can also generate a report looking at what was the paving efficiency, waiting time, wastage, all the parameters in and around it," he says. Such reports, he notes, are more often being required for paving projects.
Along with technological improvements, Dynapac updated the cab of the SD2500CS. The seats are larger, more comfortable and are heated. They can be adjusted to multiple positions. The cab is also roomier with more storage and other conveniences, like cupholders. A new thermoelectric cool box for storing beverages and food is optional.
Dynapac also made the paver quieter, reducing noise levels to 104 decibels, which the company says is the lowest for its class. A LightAssist package is available with coming-home light, integrated end-gate lights, platform lights and an updated overall lighting concept.